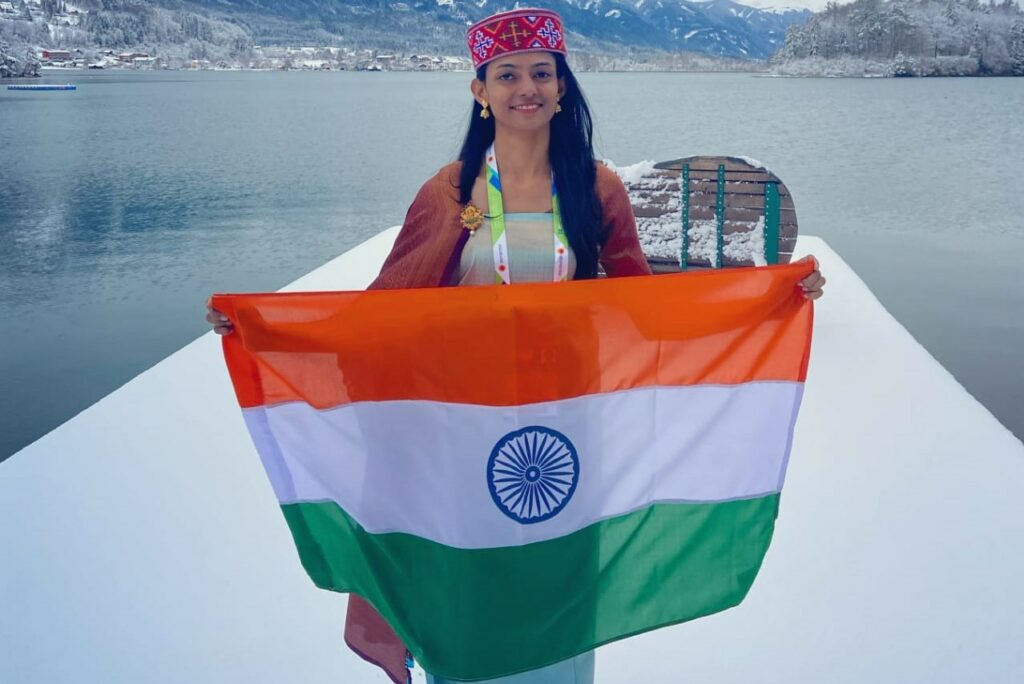 By Shrividya Somanna
They say, "Dreams are never achieved by staying on the ground." For Bhavani Thekkada Nanjunda (in picture), aged 28 years, adventure awaits on the slopes of life.
From being the first woman to represent India in any biathlon event
(biathlon usually refers specifically to the winter sport that combines cross-country skiing and rifle shooting) at an international level, to winning medals at the Khelo India Winter Games and National Winter Games, she has even bagged a silver medal in 5 km for India in Raiffeisen Langlauf Cup, Italy. She now pins her hopes to win India its first Winter Olympic Medal at Milan Cortina, Italy in the year 2026.
She started her scintillating journey as an NCC cadet during her 1st-year degree in basic mountaineering camp in Manali (2014). But Bhavani had a fair share of struggles to complete the course. She was always told that she was too lean for the sport, that she might be flown away with the speed of the wind. She was also told to quit the course. However, she persisted while struggling to familiarize herself in this brand-new place, that too without knowing the language of the city. She was not even aware of the place, Manali. All she knew was "Yeh Jawani, He, Deewani" movie was shot there!
Bhavani's mountaineering stint escalated quickly and her dedication is commendable. She has many certifications as an instructor to help fund her training. She even completed her basic and intermediate skiing from Jawaharlal Institute of Mountaineering (JIM) and her advanced course from IISM, Kashmir.
She has also climbed Mt. Elbrus (5642m), Russia, the highest peak in the European continent, and Mt. Ruapehu in New Zealand. Her zest for exploring the outdoor potential motivated her interest in skiing, a winter Olympic sport. To further enhance her skills, she trained in New Zealand and received an international certificate in skiing in 2019 which made her the first Indian woman to hold an international ski instructor certificate. She was enthusiastically learning skiing in every way possible, sometimes by watching YouTube video!
She was awarded two bronze medals in 10km and 5km Nordic skiing and became the first South Indian to have received recognition by representing India in the FIS Nordic World Ski Championships 2023 in Slovenia. She is the first South Indian and only Indian this year to qualify for the World Championships! And to see, it was her parents funding her everything including the equipment.
During the lockdown phase, she had many opportunities to work in other countries like Korea which went amiss. Within a span of just 4 years, she trained in Nordic Skiing, which is quite difficult and strenuous. Her mother and father used to push her and drop her 15 km away and ask her to run back home! This way her endurance was built which helped her in Nationals.
She was sceptical of winning the 2nd nationals race as everyone around her said that since she had been placed 7th last year. It was a far-fetched dream to win this year because there were many more players. Her only reply to that was, "I am not here to compete with others but to better my timing from last year, so that I can decide if I can proceed in this field."
She will be undergoing training in Europe for her upcoming FIS events and to qualify for the World Championship 2025. But it has always been a struggle. The Karnataka Government and many other people have come forward to support her on her journey so far. She has been trying to ask authorities to raise awareness about the sport, which is new to southern India. Financial support is deemed necessary to make the athlete's and the country's dreams come true. Hopefully, this dream will be fulfilled!