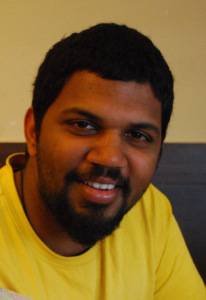 Vineet Devaiah, founder of a technology company which is set to offer tough competition to the controversial 'Google Street View' project is 'Coorg Person of the Year, 2012'.
In fact Google had offered to buy out his company TeliportMe, but the Cornell educated CEO of the Palo Alto California-based start-up refused the offer, though Vineet had many a sleepless nights before turning down the once in a lifetime chance because "once you have said no, you cannot go back and ask them again."
According to well-known technology website techcrunch.com, the Google buyout offer was in the range of $15-20 million, though Vineet is not prepared to comment on the amount.
He was selected 'Coorg Person of the Year' in a poll conducted by www.coorgtourisminfo.com, Kodagu's first news portal, promoted by senior journalist P.T. Bopanna.
Vineet (26), son of Theetira Subramani and Latha, hailing from Kutta in Kodagu district of Karnataka State, has developed an Android application which focusses on creating virtual tours using 360 degree panoramas. Users can not only capture high-resolution 360 views, but can also share their images on Facebook and Twitter.
His tryst with computers started when he was 10 year old at his father's office in Goa. When he was 15 years old, Vineet built his first application –  a weather forecasting application for farmers.
Infosys bought the software for Rs 65 lakhs. It was the time when Infosys was not so well-known a company and Vineet was surprised when he came to know that Infosys wanted to buy the software. Around the time, he lost his father to cancer.
Vineet did his B.Tech in chemical engineering from the National Institute of Technology-Karnataka, Surathkal, before proceeding to the United States for his Masters in biomedical engineering from Cornell University.
Thereafter he moved to Silicon Valley and enrolled at UC Berkeley to study marketing and took a course at San Jose State University to study entrepreneurship in finance.
He quit his job as head, US and international business development, Terracycle Inc, and moved back to India to join his friend Abhinav Asthana, and co-founded TeliportMe.
The duo created Bits360, a small service-based company. Focused on driving revenues for clients by bringing innovative marketing and branding strategies, its signature product is the panoramic virtual tour, where 2D pictures are converted into a virtual experience for customers.
Vineet likens his new application TeliportMe to Google Street View. "It is what TeliportMe willbe in the next 5 to 6 years. The only difference between the two companies is that Google is paying billions of dollars to create it and we are getting it done for free… It's kind of Wikipedia or crowd source imagery by people," he noted.
Asked about his memories of Coorg, he told www.coorgtourisminfo.com: "I came to Coorg for the first time when I was in 3rd standard. This was the time I actually remembered Coorg and its amazing weather. We have a house in Kutta that I regularly visit once a year at least. It is great to disconnect from the otherwise connected world I live in."
Among the others who were nominated for this year's 'Coorg Person of the Year 2010', include  Commonwealth Games badminton gold medalist Machimanda Ashwini Ponnappa and noted environmentalist Col. C.P. Muthanna, who has been waging a relentless battle to save the Western Ghats from the forest mafia in Kodagu.
The past winners of the 'Coorg Person of the Year' are Dr Kavery Nambisan, novelist, 2005; Dr Boverianda Nanjamma Chinnappa, researcher, 2006; Robin Uthappa, cricketer, 2007; Dr Moodera Jagadeesh Subbaiah , scientist, 2008; Air Marshal K.C. Cariappa, Retd., environmentalist, 2009; Tennis player Rohan Bopanna, 2010; and retired Tamil  Nadu IAS officer P.M. Belliappa, 2011.