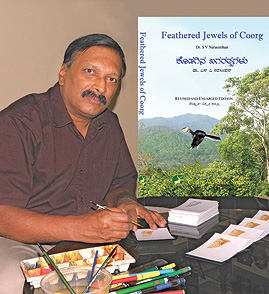 Dr S.V. Narasimhan, a bird-watcher from Kodagu (Coorg) in Karnataka, who has been featured under two categories in the  2013 edition of the Limca Book of Records is 'Coorg Person of the Year, 2013'.
Dr Narasimhan, the author of the book "Feathered Jewels of Coorg", practices medicine at Virajpet town. He pioneered the concept of spreading wildlife conservation messages in the last three decades through his unique hand-painted cards. He was featured under the paintings category in the book of records, for the 'most cards made and sent'. 
He was selected 'Coorg Person of the Year' in a poll conducted by www.coorgtourisminfo.com, Kodagu's first news portal, promoted by senior journalist P.T. Bopanna.
Dr Narasimhan, aged 58, has been drawing and colouring message cards since 1983 for the cause of wildlife conservation. Starting with just 120 the first year, he has sent out 55,320 cards as of June 30, 2012.
He has also been included in the Limca Record under the literature category for the 'only book on birds authored and illustrated by same'.
Dr Narasimhan has done 310 coloured illustrations in his book – Feathered Jewels of Coorg – first published in 2004 by the Coorg Wildlife Society, Madikeri, co-sponsored by The Coorg Foundation. A revised and enlarged edition was published in 2008. His book is a treasure trove of information on bird species found in Kodagu with their zoological names as well as their names in English, Kannada and Kodava languages.
 He paints the cards made of recycled paper. He draws the outline of the picture using a computer and then manually fills in the colours, using pencil, sketch pen and water-colours. The accompanying messages are invariably fitting quotes, appealing to preserve the fragile eco-system and the vanishing flora and fauna. The cards are mailed in the first week of October to coincide with the Wildlife Week. Most of the recipients of the cards are school children, with a view to promote environmental awareness among young people. Policy makers also find a place on the mailing list.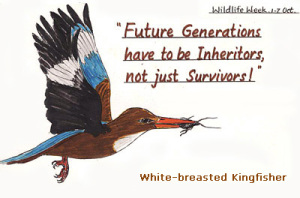 Among the others who were nominated for this year's 'Coorg Person of the Year', include President of the Coorg Wildlife Society, Col. C.P. Muthanna, who has been waging a relentless battle against the erection of 400 KV high-tension transmission line across private plantations in Kodagu to supply power to Kerala from Koodanakulam nuclear power plant.
The past winners of the 'Coorg Person of the Year' are Dr Kavery Nambisan, novelist, 2005; Dr Boverianda Nanjamma Chinnappa, researcher, 2006; Robin Uthappa, cricketer, 2007; Dr Moodera Jagadeesh Subbaiah , scientist, 2008; Air Marshal K.C. Cariappa, Retd., environmentalist, 2009; Tennis player Rohan Bopanna, 2010;retired Tamil  Nadu IAS officer P.M. Belliappa, 2011; and  Vineet Devaiah, technology innovator, 2012.
http://www.coorgtourisminfo.com/bird-watching.php