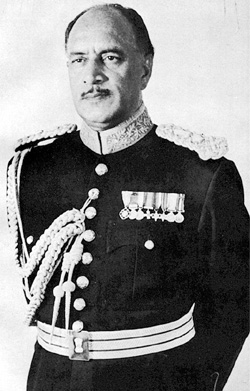 By P.T. Bopanna
Coorg or Kodagu as it is officially known now in Karnataka is well known for its brave soldiers. No doubt Madikeri, the headquarters of Kodagu, is dotted with the statues of its brave sons. The statues are now in trouble. Not from any external enemy, but from our red coloured state transport buses, belonging to the government owned KSRTC.
On Friday evening, a KSRTC bus grazed past the pedestal of the statue of Squadron Leader Ajjamada Devayya, located at the Old Madikeri bus-stand. A portion of the pedestal was damaged. Crowds gathered and raised slogans against the KSRTC.
The incident comes close on the heels of the damage caused to the iconic statue of General KS Thimayya (in picture) in the wee hours of August 21 by a speeding KSRTC bus. The statue toppled after the bus ploughed into the traffic island enclosing the statue.
The 50-year-old statue of the General, located at the entrance of Madikeri, was unveiled by field marshal Sam Manekshaw.
The accident left the statue with five holes and a portion of the hand being damaged. The statue has been shifted to the nearby General Thimayya Museum. Efforts are on to reinstall the Thimayya statue in the same location.
Unlike the General Thimayya statue which fell on the ground due to the impact of the accident, the statue of Squadron Leader Devayya is intact.
Sqd. Ldr. Devayya was awarded the Maha Vir Chakra (MVC) posthumously for his heroics in the 1965 India-Pak war. He was awarded this honour 23 years after in 1988 for his sacrifice in an epic dog fight on September 7, 1965 war against Pakistan Air Force's Supersonic F-104 Star-Fighter.
While reinstalling the statue, steps should be taken to prevent such mishaps in future. The KSRTC should be made to pay for the damages.