CARTOONIST PONNAPPA IS 'COORG PERSON OF THE YEAR, 2016'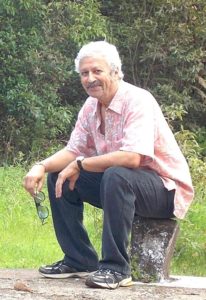 Renowned Indian cartoonist Nala Ponnappa, known for his offbeat tongue-in-cheek humour, is the 'Coorg Person of the Year, 2016'.
Ponnappa, whose cartoons appear in The Times of India, Bengaluru edition, was selected 'Coorg Person of the Year' in a poll conducted by www.coorgtourisminfo.com, Kodagu's first news portal, promoted by senior journalist P.T. Bopanna.
Ponnappa's first cartoons appeared in Chicago in 1972 where he was studying for a Master's degree in Architecture.  He began cartooning as a hobby by contributing his cartoons to college magazines.
The cartoons of the Coorg-born Pune-based cartoonist, also appears in The Sunday Mid-Day, The Economic and Political Weekly and the Economic Times. His works have also appeared in the International Business Times.
Born in 1948, his early education was in Mangalore and Pune. He graduated in architecture from the Madras University with a first class. He had an eleven-year stint from 1970 to 1981 as an architect in Chennai, Delhi, and Lagos, before he turned into a cartoonist. He settled down in Bengaluru in 1982 and began his career as a freelance cartoonist.
His works have also been published in the Penguin Book of Indian Cartoonists and The Third World Book of Cartoonists from Germany.
He was awarded the First prize by the epd- Entwicklungspolitik publication, in a competition held at Frankfurt to commemorate the 50th year of India's Independence.
Ponnappa was a member on the world jury of an international cartoon competition on Humankind and Energy held in Hanover, Germany in September 2000. At a competition held in Germany, one of Ponnappa's cartoons, which depicted the German language being deeply influenced by the English language, was selected to be put up as a poster by the German Cartoonist Association.
He has also won prizes of excellence at cartooning competitions held in Korea and Romania. He was the only Indian to be invited to attend the Kyoto International Cartoonist Conference in 2002 where he was also presented the jury award for his cartoon on 'Remembering 9/11'.
Among the many awards he has received is also the Karnataka State Rajyotsava Award in 2007.
He has also written plays and acted on stage. His hobbies include drawing, music, photography and traveling. Ponnappa splits his time between Pune, where he works and resides, and his hometown Coorg.
Nadikerianda Subbayya Ponnappa is the grandson of Nadikerianda Chinnappa, the compiler of the Pattole Palome, a book on Kodava culture, folk songs and traditions.
Among the others who were nominated for this year's 'Coorg Person of the Year', include Boverianda C. Uthaiah (77) compiler of the Kodava-Kodava-Kannada-English dictionary which is due for release shortly.
In the past, the winners of the 'Coorg Person of the Year' title include, Dr Kaveri Nambisan, novelist (2005),Dr Boverianda Nanjamma Chinnappa, researcher and writer (2006), Moodera Jagadeesh, scientist (2007), Air Marshal K.C. Cariappa, environmentalist (2008), cricketer Robin Uthappa (2009), tennis player Rohan Bopanna (2010),  retired Tamil Nadu IAS officer P.M. Belliappa(2011), technology innovator Vineet Devaiah (2012), birdman Dr S.V. Narasimhan (2013), squash champion Joshna Chinappa (2014), and athlete M.R. Poovamma (2015).