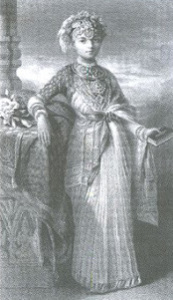 Coorg has a fascinating history and one of the interesting aspects of its colorful past was the fact that Queen Victoria of England was the godmother of a Coorg princess! After Coorg was annexed by the British in 1834, Chikka Veerarajendra, the last Raja of Coorg, was taken by the British to Vellore in Tamil Nadu, and then to Varanasi in 1835. Chikka Veerarajendra, with two of his wives and his favorite daughter Gowramma sailed to England in 1852. He was the first Indian Raja to sail from India to England. He died in London in 1859. Queen Victoria was the godmother of princess Gowramma. The Queen was present during Gowramma' s baptism by the Archbishop of Canterbury on June 30, 1852, and the princess was given the name Victoria Gowramma.
Queen Victoria was keen to forge a matrimonial alliance between princess Gowramma and Maharaja Duleep Singh, son of Maharaja Ranjit Singh of Punjab, but the alliance failed to materialize. Eighteen-year-old princess Gowramma fell in love with a 48-year-old widower Col. John Campbell and they were married in 1860. The marriage failed in a few years and a dejected princess succumbed to tuberculosis and passed away in 1864. The couple had a girl child who was named Edith Victoria Gowramma Campbell.
Prior to the annexation of Coorg by the British in 1834, Coorg had been ruled by Lingayat Rajas since 1600.
It is interesting to note how a prince in the garb of a priest, took possession of Coorg and began the rein of the Lingayat rajas. A prince of Ikkeri family in Shimoga district, assumed the role of a Lingayat priest and established himself at Haleri, to the north of Madikeri, the capital of Coorg. Gradually, he assumed kingship of Coorg and his heirs ruled the place for the next two centuries.
Most of the early accounts of Coorg are essentially legendary and the only authentic record of Coorg history is available after the ninth and 10th centuries. According to inscriptions, Coorg was ruled by several south Indian dynasties like Gangas, Pandyas, Cholas, Kadambas, Changalvas and Hoysalas. After the fall of Hoysala rule in the 14th century, Coorg came under the supremacy of the Vijaynagar empire. Subsequently, Coorg was ruled by petty local chieftains called Nayakas, till the advent of the Lingayat Rajas.
After the annexation of Coorg by the British in 1834, Coorg was ruled directly by the British till the Indian Independence in 1947. The Indian Constitution recognized Coorg as part ' C' state and an elected government assumed office in 1952 with its own chief minister. In November, 1956, Coorg was merged with the erstwhile state of Mysore, during the reorganization of states. Now, Coorg is a district in the state of Karnataka.