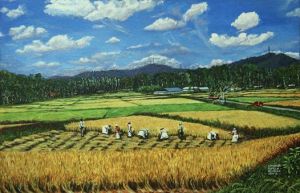 KARNTAKA HIGH COURT ADMITS PETITION SEEKING QUASHING OF CONTROVERSIAL JAMMA LAND AMENDMENT
The Karnataka High Court has admitted a writ petition seeking the quashing of the recent Amendment to allow the partitioning of Jamma lands in Kodagu district of Karnataka.
Bangalore-based journalist and author P.T. Bopanna is one of the signatories to the petition.
The petitioners had sought a direction to restrain the Karnataka government from compelling members of the joint families of the Kodava race to seek partition of their ancestral properties, including Jamma Bane lands, whether alienated or un-alienated, privileged or unprivileged.
The writ petition seeks quashing the Karnataka Land Revenue (Third) Amendment Act passed by the previous BJP government. The petition has called for upholding the customary laws which stand abolished by the Amendment.
INTERIM PRAYER: The writ has sought a stay on the operation of the Act until the disposal of the petition, and also restrain the revenue department from mutating any Jamma land falling under Regulation 164 of the Coorg Land Revenue Regulation, 1899, in the name of the purchaser.
The petitioners have urged the court to declare the Karnataka Land Revenue (Third Amendment) Act, 2011 ANNEXURE-A, as unconstitutional and void and direct the respondents and its officers not to enforce or give effect to the provisions of the Amendment.
The deputy commissioner of Kodagu district has also been made a respondent to the case, and also the Secretary, department of Parliamentary Affairs and Legislation.
It may be recalled that a public interest litigation (PIL) was filed last May to quash the Amendments. The PIL was subsequently 'disposed as withdrawn" in June in the court of the Chief Justice.
The name Jamma is derived from the Sanskrit word "Janma", meaning "hereditary by birth". Jamma was granted under sannads largely by the Coorg Rajas (1600 AD to 1834 AD) and to a smaller extent by the British till 1895 to the local inhabitants – Kodavas, Amma-Kodavas, Heggades, Airis, Koyavas, Moplas and Gaudas. The Jamma-holders were liable to be called out to repel external aggression or quell internal disturbances, and to be deployed as treasury guards.
The Jamma lands consisted of the wetland for growing paddy and the adjoining highland called Bane land, initially used for cattle grazing and held free of assessment, which have now been converted into coffee estates.