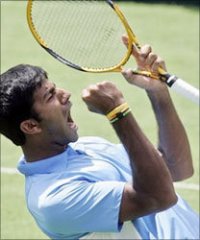 Indian Davis Cup player Rohan Bopanna who overcame the trust deficit between warring neighbours India and Pakistan to reach the US Open men's doubles tennis championship with his Pakistani team-mate Aisam-Ul-Haq Qureshi,  is the 'Coorg Person of the Year, 2010'.
Perhaps for the first time in the troubled history of the two South Asian neighbours, Rohan Bopanna, hailing from Coorg (Kodagu) in Karnataka and his Pakistani doubles partner showed to the world that there was hope for peace if only the two nations began trusting each other and buried their turbulent past of the last six decades.  
 Nicknamed the "The Indo-Pak Express", the duo reached the US Open this year where they ended runners-up to the legendary Mike and Bob Bryan of the United States.
Rohan Bopanna was selected 'Coorg Person of the Year' in a poll conducted among the members of www.coorgtourisminfo.com, a news portal of Coorg.  
This year's US Open finals was a historic occasion as a lot of Pakistanis and Indians in the crowd cheered for the team. There was no way of telling who was Pakistani and who was Indian as the crowds  from the two nations joined together to support the same team.
 Though Bopanna and Qureshi, 16th seeds, were playing their first ever Grand Slam final, they made the world number one pair work hard for points and played enthralling tennis for more than one-and-a-half hours.
Commenting on the match, Stephen Cohen, an expert on South Asian politics at The Brookings Institute, a non-profit public policy organization based in Washington, D.C., said "It's pretty much a cold war relationship and these guys are breaking through it. Just trying to be normal people with abnormal governmental relations and I give them a lot of credit for it. They want to ignore politics for human relationships."
 The first time Bopanna and Qureshi realized their potential for change was in 2007, at a tournament in Mumbai. The pair had advanced to the final, but before it started, they watched India and Pakistan play in the cricket World Cup from the players' lounge.
Qureshi and his father watched the match in which Pakistan lost the match. Qureshi recalled that his disappointment faded when he stepped onto the court and came across hundreds of fans with India's flag painted on one cheek and Pakistan's on the other.
"It's something I'll never forget. I never expected that we would be able to create such a high", Qureshi was quoted as saying after the match.  
The duo met in India more than a decade ago as youngsters on the ITF Junior circuit and became friends. In 2003, they began playing as a team, and have since won an ATP World Tour title, along with advancing to four other finals in the last few years.
While Bopanna's tall, lanky frame provides the blistering serves for which he has earned nickname 'Bofors Bopanna', Qureshi, a more accomplished singles player, sets up the points.
Bopanna started playing tennis when he was 11 years old. Son of Machanda G. Bopanna and Mallika, coffee planters from Coorg, Bopanna was initially trained by Mahesh Bhupathi's father C.G. Krishna Bhupathi.
 Among the others who were nominated for this year's 'Coorg Person of the Year 2010' were Commonwealth Games badminton gold medalist Machimanda Ashwini Ponnappa and social activist Kimmudira Ravi Chengappa, who heads Cauvery Sene in Kodagu.
 The past winners of the 'Coorg Person of the Year' are Dr Kavery Nambisan, novelist, 2005; Dr Boverianda Nanjamma Chinnappa, researcher, 2006; Robin Uthappa, cricketer, 2007; Dr Moodera Jagadeesh Subbaiah , scientist, 2008; Air Marshal K.C. Cariappa, Retd., environmentalist, 2009.
 www.coorgtourisminfo.com has been promoted by senior journalist P.T. Bopanna.