Pandanda Kuttappa, who conceived the idea of 'family hockey' in Coorg, has been conferred the Karnataka State Rajyotsava award for the year 2015.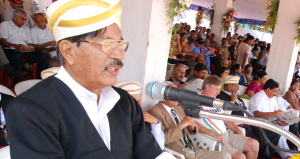 Kuttappa, popularly known as Kuttani, a retired State Bank of India official and a hockey enthusiast, started family hockey tournament exclusively for the Coorgs in 1997.
 In this unique tournament, members of various Coorg families (clans), play one another. There is no age or gender bar for participating in the matches, though of late, the tournament has become highly competitive, involving high caliber hockey. Over 200 families have been sending their teams for the tournament which is played in the month of April-May every year.
The finances for the inaugural tournament in 1997were provided by Kuttappa and his brother Pandanda late Kashi Ponnappa. The response was very good and this tournament held at Karada, known as Pandanda Cup attracted around 60 families. Some rules were framed which included that all the team members must belong to the same family (surname) and participate in a full hockey attire. Even women could be a part of the team and it was left to the woman to decide whether she wants to represent the father's family or that of the husband's.
 The 19th edition of the tournament was held early this year. It was hosted by the Kuppanda family and was won by the Palanganda clan. The Palanganda clan has been winners for a record five times.
 For more details on family hockey and winners of each year from its inception, check out the following link:
 http://www.coorgtourisminfo.com/family-hockey.php