The presence of defence minister Manohar Parikkar to witness the finals of the Shantheyanda cup added sparkle to the Kodava family hockey tournament held on Sunday at the FMC College grounds in Madikeri.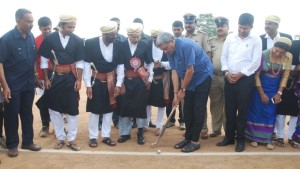 In a nail-biting finish, the Kaliyanda team beat last year's champions Palanganda by 6-5 goals to grab victory in the 20th edition of the tournament started in 1997 by Pandanda Kuttappa.
Both Palanganda and Kaliyanda secured equal scores which resulted in a tie. During the penalty stroke, again, both the teams scored 2-2. The referee then went for the 'sudden death' spell in which the Kaliyanda team won by a goal.
The winning team Kaliyanda was awarded Rs two lakh cash and a trophy and Palanganda was awarded Rs one lakh cash and trophy. The Kuppanada and Koothanda teams which reached till semi-finals were presented with Rs 25,000 each.
Kuppanda Somaiah bagged the best player of the tournament. Paradanda team won the best team award. It was announced the Biddatanda family would host the 2017 tournament.
 The defence minister who inaugurated the finals, assured that he would consider locating a military academy or college in Kodagu which has contributed a lot to the defence services. Further, he also said that he would take up with the sports minister for setting up a sports academy or authority in Kodagu.