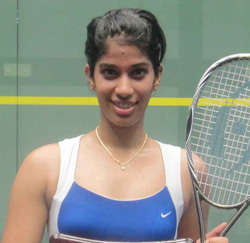 By P.T. Bopanna
Joshna Chinappa, 37, based in Chennai, who is a pioneer in women's squash in India, is all set to make her sixth appearance at the Asian Games.
Hailing from Kodagu (Coorg) in Karnataka, Joshna, the youngest Indian to win the British Open juniors, which she did at the age of 16, says she draws her inspiration among others from 43-year-old Rohan Bopanna, who recently made the men's doubles final at the US Open.
In an interview, Joshna was quoted as saying: "Bops (Bopanna) is a legend. I have known him for almost 20 years as we come from the same place in Coorg. I heard he was retiring and I messaged him saying 'you are playing your best tennis now, why would you retire?' Then he said he was only retiring from Davis Cup (laughs)."
Joshna was awarded the coveted Arjuna award for squash in 2013. She is also a 19-times national champion and reached her career-high world ranking of 10 in the year 2016.
As a feisty youngster, she was first introduced to squash at the Madras Cricket Club, where her father Anjan Chinappa and her mother Sunita were members.
Joshna's father Kuttanda Anjan Chinappa represented Tamil Nadu in squash. He introduced her to the game when she was very young and was also her first coach. She showed great promise and with unstinting support from her parents, was able to emerge as an international star.
She is the great-granddaughter of the well-known Pemmanda K. Monappa, who retired as the head of Karnataka's police force and had the rare distinction of serving as head of the police department in three states. She is also the great-grandniece of Field Marshall K.M. Cariappa. Her maternal grandfather, Pemmanda M. Belliappa, a well-known IAS officer of the Tamil Nadu cadre.
Source: Coorg Role Models by P.T. Bopanna, Rolling Stone Publications, 2021. Paperback copy the book is available on Flipkart:
https://www.flipkart.com/coorg-role-models/p/itm52d5a3d0a5bbc?pid=9789385741012&lid=LSTBOK9789385741012XBMCEV&marketplace=FLIPKART&cmpid=content_book_8965229628_gmc