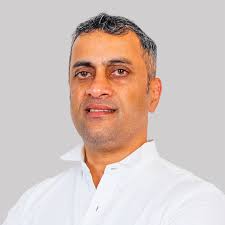 By P.T. Bopanna
Has A.S. Ponnanna (in picture), the newly elected Congress MLA from Virajpet in Kodagu (Coorg) district betrayed the trust of the voters by hobnobbing with the defeated BJP MLA K.G. Bopaiah?
In a bitterly fought Karnataka Assembly elections in May, voters sympathetic to the BJP had turned against Bopaiah who had been winning the Virajpet seat solely due to brand Modi. He had become very unpopular with the voters after his name was dragged into the "40 per cent commission" scam.
In view of the animosity in which the elections were fought, people were taken aback when the sitting Congress MLAs Mantar Gowda (Madikeri constituency) and Ponnanna attended a meeting last week at Madikeri which was also attended by former BJP MLAs, Appachu Ranjan and Bopaiah, to chalk out a plan to oppose the Kasturirangan report on safeguarding forests in the Western Ghats.
There has been suspicion among the people that the former BJP MLAs were trying to scuttle the implementation of the Kasturirangan report with a view to benefit the Kerala timber lobby. From the beginning, the BJP MLAs had misled the people into believing that the report would affect the entire district, without explaining to the people on the pros and cons of the report.
Since the track record of the former Kodagu BJP MLAs is suspicious, the present MLAs should initiate consultation with the people before arriving at any decision on the report. The previous MLAs have no locus standi in the issue. The consultation process will be vitiated if the defeated MLAs with vested interests were allowed to participate in the exercise.
There has to be threadbare discussions at the gram panchayat level and every village has to understand the benefits of implementing the Kasturirangan report. People of Kodagu should not be swayed by the misguiding narratives being pandered by the quarrying, sand mining and realtor lobbies. In fact some leaders have even got people to illegally occupy forests (that too sacred groves!) under the guise of 'traditional forest dwellers' to cultivate their vote banks!
The Western Ghats Ecology Expert committee headed by Prof Madhav Gadgil had recommended in 2011 to make the entire Kodagu district as eco sensitive area (ESA). However, due to sustained campaign by politicians, the Union government set up the Kasturirangan committee to review the Gadgil panel report.
The Kasturirangan Commission has sought to balance the two concerns of development and environment protection, by watering down the environmental regulation regime proposed by the Gadgil report. The Kasturirangan report sought to bring just 37% of the Western Ghats under the ESA zones — down from the 64% suggested by the Gadgil report.
Former Principal Chief Conservator of Forests, Karnataka, B.K. Singh, has been quoted as saying that the Western Ghats have already been plundered for development and infrastructure projects. "This in turn has impacted human lives. We need to place an embargo on further destruction and degradation of these forests. If the state doesn't accept the Kasturirangan report, it will only keep open the floodgates of destruction."