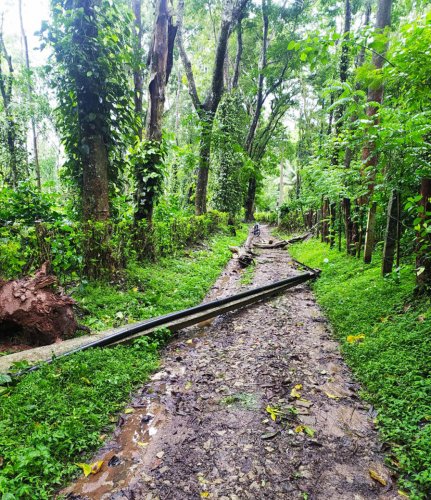 By P.T. Bopanna
The power supply situation in Kodagu (Coorg) district in Karnataka is pathetic because the Chamundeshwari Electricity Supply Corporation (CESC) has utterly failed to manage power supply in the district which is spread over hilly and forested areas.
The failure of the CESC is compounded by the negligence of the Virajpet and Madikeri MLAs in the modernisation of the network.
The elected representatives are preoccupied with projects like roads and buildings which are more beneficial to them and their party supporters.
It may be recalled that serious allegations had been made against the MLAs by the district contractors' association regarding the 40 per cent commission for clearing their bills.
The main drawback is the failure of the CESC to fill up vacant posts. For instance, Hassan District has one Chief Engineer, one Superintending Engineer and Five Executive Engineers, whereas Kodagu has only one Division in Madikeri. That post is also vacant from last two years and managed by in charge arrangements, placing AEE Kushalnagar as in charge for managing routine files. He cannot concentrate on developments and important maintenance works.
On top of it, Kodagu district is attached to Chamarajanagar District circle for administration.
Many villages around Bhagamandala, Sampaje, Napoklu, Virajpet, Madikeri, Siddapur, have low voltage complaints and frequent power interruptions. Strengthening of HT distribution systems should be done on a priority.
Talakaveri and Bhagamandala, the birth place of sacred river Cauvery suffer the most power constraints. Substation was technically cleared around four years back. It has not yet been taken up.
South Kodagu suffers low voltage due to feeding in circuitous route via Periyapatna. Needs Transmission lines linked at shorter route via Nanjarayapatna- Siddapura. Rerouting Bhagamandala line from Murnad to Padakal via Nelji with a tap station must be considered.
The heavy rain that lashed Kodagu in the first week of August, 2020 had taken a heavy toll on the power supply infrastructure, damaging 2,677 electric poles. Besides the poles, 25,650 metres of power lines and 75 transformers in the district were damaged, involving an estimated loss of Rs 3.05 crore.
Knowing the monsoon fury in the previous two years, the district administration and the CESC should have stocked up the materials and additional manpower to restore power supply.
Karnataka's energy minister Sunil Kumar should immediately visit Kodagu and personally monitor the improvement of the power situation in the district, which is south India's most sought after holiday destination.