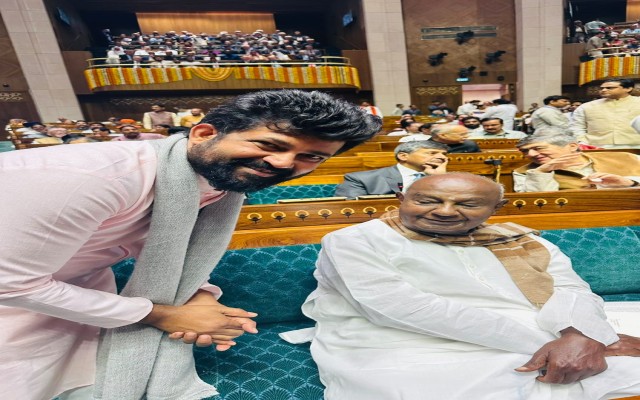 By P.T. Bopanna
Mysure-Kodagu BJP MP Pratap Simha is the guru of 'adjustment politics' and he should know that he would not have been elected to the Lok Sabha, but for the secret support extended to him by the Janata Dal supremo H.D. Deve Gowda.
Simha has stoked a controversy by accusing his BJP party leaders (mainly former chief minister Basavaraj Bommai) of indulging in 'adjustment politics' by not questioning Congress chief minister Siddaramaiah government's guarantee schemes.
Deve Gowda who is famous for his Vokkaliga caste politics, had fielded a weak candidate against Simha in the 2014 Lok Sabha elections.
While initially Gowda had planned to field veteran Congress leader Jaffar Sharief from Mysuru, in a last minute change, the JD (S) fielded retired high court judge Chandrashekariah, a political lightweight.
Thus began the 'adjustment politics' of Simha, who has been winning elections with JD (S) support.
A Deccan Herald report in 2014 said the JD (S) "has made a covert arrangement with the BJP, giving Simha a jump start. While there has been minimal canvassing for Chandrashekaraiah in Mysore, JD(S) has not bothered to campaign for its candidate anywhere in Kodagu, Hunsur and Periyapatna. Not only are JD(S) party workers seen participating in BJP meetings, it is also heavily rumoured that JD(S) leaders have funded the BJP candidate."
This is a serious charge made against Simha featured in Deccan Herald, a paper known for its independent coverage of news.

A report in pro-BJP Swarajya on its coverage of the 2019 Lok Sabha elections, had this to say: "JD(S) workers from in Chamundeshwari Assembly constituency voted for BJP candidate Pratap Simha when casting their ballot for Lok Sabha elections. Speaking to reporters, JD(S) district in-charge minister G T Devegowda admitted that his party workers supported BJP and its candidate Pratap Simha. The party workers were reluctant to support C H Vijayshankar, who was the Congress and JDs coalition candidate."
Simha does not miss a single occasion to thank his benefactor Deve Gowda whose blessings he took (in picture) during the recent inauguration of the new parliament building constructed by Modi government.
In the circumstances, loose cannon Simha should know that those who live in glass houses should not throw stones.