By P.T. Bopanna
Being a journalist, I was shocked to go through the Bengaluru-headquartered Deccan Herald newspaper published on February 6. In the guise of news, the paper had published an advertisement on page 3.
This was misleading for the reader, who had to assume that it was a news item, though it was an advertisement. The half-page item was in question-and-answer style used while interviewing a personality.
The advertisement was intended to project Rashmi Ravikiran, of the East West Group of educational institutions, who is an aspirant for Congress ticket from Malleshwaram constituency in the forthcoming Karnataka Assembly elections.
There was no way of knowing it was advertisement because it was written 'advertorial' in small print which was buried in a corner.
For the uninitiated, an advertorial is paid advertising that is designed to look like journalistic content.
This unethical practice of publishing advertorial was pioneered by Times of India group. More of it later.
As long as K.N. Hari Kumar was the editor of Deccan Herald, he had upheld the sanctity of news in his paper which was owned by his family. After his exit, the drift started.
Curiously, the present editor of Deccan Herald is one Sitaraman Shankar (in picture), who is also the chief executive of the paper. This is a strange practice because the newsroom has to be insulated from the advertisement section. To put it in a layman's language, Shankar is both editor and advertisement manager of the paper.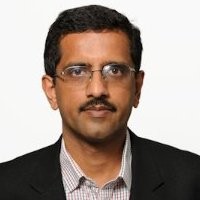 No wonder he thought of publishing an advertorial in news page. It is a huge fall for a paper which was once edited by Pothan Joseph, the doyen of Indian journalism. Curiously, Shankar's name is not there in the imprint line of the paper.
Having worked for Times of India for a dozen years, I am well aware of the evolution of paid news.
As long as Ashok Jain was the chairman of Bennett, Coleman and Co, owners of Times of India, there was a clear demarcation of news and advertisements. Ashok Jain never interfered in the affairs of the editorial department when Girilal Jain was the editor.
After the passing of Ashok Jain, the control of the paper was taken by his son Samir Jain, who is the pioneer of paid news in India. Samir had scant respect for journalists whom he called as 'disposable'.
The commodification of news was started by Samir jain. Besides asking celebrities to pay for favourable coverage, his company offered a "private treaty" agreement, which accepts an equity stake in a company in return for favorable coverage.
When I was working for Times of India, Bengaluru, in the eighties and nineties, P.G. Mahadevan was resident editor at one point of time. One fine day, a gentleman walked into his cabin and introduced himself as 'product' manager of the paper. He tried to tell the resident editor that some of the day's news on page 1, did not deserve to be there. Mahadevan, an old timer, politely asked the product manager to leave his cabin. When Mahadevan's contract came up for extension, it was not renewed.
The Times of India subsequently brought faceless persons as resident editors who had to only dance to the tune of the marketing people who called the shots.
Till 1970s, editors of major newspapers were considered as captains of the ship and there was no interference in their affairs from the management. Editors were so powerful, that I remember Frank Moreas who was the editor of Indian Express, wrote front page editorials when something major happened. They were highly respected men in society and their words carried lot of weight.