By P.T. Bopanna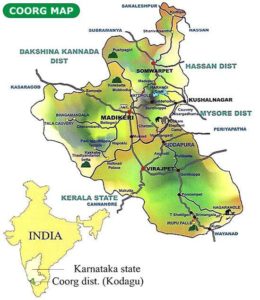 Had Coorg State not merged with Karnataka on November 1, 1956, Kodagu (Coorg)  would have been in a better position to take up the rehabilitation of people affected by the August landslides.
More than two months after the calamity, the Kodagu district administration is still in the process of identifying land for victims. With a Cabinet minister sitting in Bengaluru, who takes care of the interests of Kerala timber lobby, the first priority of the district administration after the calamity was to restore road link to enable the movement of timber lorries! This was preceded by a decision to relax ban on the movement of silver oak trees by the Kodagu deputy commissioner, P.I. Sreevidya.  
Even before the road link was restored, the district administration launched a publicity blitz to welcome tourists back to Kodagu. Some of the top district officials were featured in videos to welcome tourists back. Within no time, some of the major highways had to be closed down for traffic as rains resumed and the roads became un-motorable.
The zeal shown by the Kodagu district administration in welcoming tourists, is not reflected in maintaining tourist infrastructure. The musical fountain at Raja Seat has not been functioning, and the toy train nearby has stopped running for want of proper maintenance.
Had Kodagu had its own government as it existed before its merger with Karnataka, the first priority would have been to rehabilitate the victims of the calamity, instead of serving the needs of the timber lobby.
The only solution to the problem is to set up a Kodagu Autonomous Council to empower the local administration to take up developmental activities, instead of waiting for green signal from Bengaluru for dealing with routine matters.