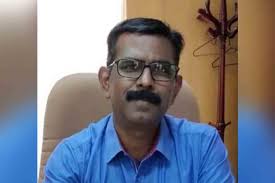 By P.T. Bopanna
Senior IAS officer P. Manivannan (in picture), who was shunted out from his post a couple of days ago by Karnataka chief minister B.S. Yediyurappa, is a pioneer in using technology to solve the problems of people.
Following pressure from vested interests, Yediyurappa unceremoniously stripped him of his post as Principal Secretary, labour department, where he was handling the labour problem arising out of the Covid-19 pandemic.
Manivannan, a mid-career MPA student at the Harvard Kennedy School (class of 2019) has been working to empower citizens to engage the government to work for and with them for the last two decades.
Though I had not met Manivannan personally, he helped me in my online campaign to repair the Hunsur-Gonikoppal Road way back in 2012.

With the campaign getting a positive response on Facebook, Manivanna, who was then the chief project officer at Karnataka State Highways Improvement Project, took notice of the issue.
Manivannan convinced Dr H.C. Mahadevappa, the PWD minister, on the urgent need for starting the work.
Known for bringing transparency in administration, Manivannan installed CCTV in his chambers while he was the MD of BESCOM.
As commissioner of Hubli-Dharwad municipal corporation, his drive against encroachments and violation of building laws, brought him the sobriquet of 'Demolition Man'.
Manivannan has faced frequent transfers in his career for his crusade against corruption and clamp down on the illegal activities of the vested interests, especially the land mafia.
In the latest round, the vested interests have succeeded in his ouster. A letter written by the Karnataka Employers' Association to chief minister Yediyurappa demanding the transfer of Manivannan has surfaced in the social media.
He has now been moved to animal husbandry and fisheries department as Secretary.
Manivannan has a bachelor of chemical engineering degree from NIT, Trichy. He is married to Salma K. Fahim, also an IAS officer.