By P.T. Bopanna
Is the Karnataka government dancing to the tune of Kerala timber lobby yet again to dilute the Kasturirangan report?  The report seeks to protect the fragile ecosystem in the Western Ghats, including that of the Kodagu (Coorg) district in Karnataka.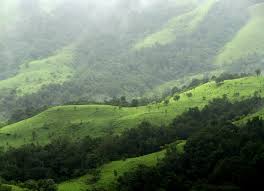 The Union Environment Ministry recently notified the proposed ecologically sensitive areas (ESAs) in the Western Ghats. Instead of agreeing to the report which seeks to safeguard the Western Ghats, the Karnataka government is planning to file objections to the report, apparently at the bidding of the Kerala timber lobby which funds politicians in Kodagu. Once an area is declared an ESA, restrictions will be imposed on setting up industries and other major projects.
Karnataka forest minister B. Ramanath Rai has been quoted as saying that the state government will file objections to the draft notification, based on 'people's opinion'. 
From the beginning, Kodagu politicians have misled the people and opposed the Kasturirangan report as this would affect the business of the Kerala timber mafia who have a free run of the district now.

In fact, the Western Ghats Ecology Expert committee headed by Prof Madhav Gadgil had recommended in 2011 to make the entire Kodagu district as eco sensitive area. However, due to sustained campaign by politicians, the Union government set up the Kasturirangan committee to review the Gadgil panel report.
As per the Kasturigangan Report, about 37 per cent of the total area under Western Ghats is deemed to be ecologically sensitive. Of Karnataka's total geographical area, Western Ghats taluks measure up to 44,448 sq km. Of this, the proposal was to declare 20,668 sq km as ESA.
It is said that the notified area in the current draft is at least 3,000 sq km less than the area identified by the expert group headed by former ISRO chairman K Kasturirangan. The draft notification was reissued on February 27 as the previous notification, issued in 2015, is set to expire within a month.
The people of Kodagu should not heed to the advice of the politicians to oppose the Kasturirangan report. If the report is implemented, the proposed railway line to Kodagu, the Konganapole project to divert water to Hunsur taluk and other major highways planned in Kodagu could be averted. The denudation of Kodagu forests has already affected the rainfall in the district and flow of water to the Cauvery. The time has come to save the Cauvery and also save Kodagu.