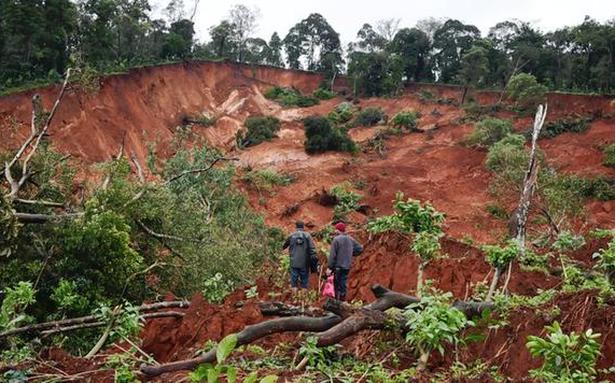 By P.T. Bopanna
The only way to save Kodagu (Coorg) in Karnataka from the impending earthquakes and landslides is to declare the entire district as eco sensitive area (ESA) as recommended by Prof Madhav Gadgil Committee.
Panic has gripped residents in Kodagu as the district witnessed half a dozen tremors in the last one week, triggering fears of a replay of similar tremors way back in 2018 which was followed by killer landslides that brought down hills in several parts of the district.
The Western Ghats Ecology Expert committee headed by Prof Madhav Gadgil had recommended in 2011 to make the entire Kodagu district as eco sensitive area.
However, due to sustained campaign by politicians, the Union government set up the Kasturirangan committee to review the Gadgil panel report. As per the Kasturigangan Report, about 37 per cent of the total area under Western Ghats is deemed to be ecologically sensitive.
However, even the diluted recommendations of the Kasturirangan report has met with stiff resistance from the political class backed by the Kerala timber lobby.
The Congress government headed by Siddaramaiah rejected the report following pressure from a minister in his Cabinet who hailed from Kodagu and had close association with the timber mafia. The minister had the temerity to issue a statement that "not an inch of land in Kodagu would be declared as ecologically sensitive".
In 2014, supporters of BJP legislators attacked S. Sivasankar, IFS, deputy conservator of forests, Madikeri wildlife division, at the Fort Hall, Madikeri, during a meeting over the recommendations of the Dr Kasturirangan report for voicing concern over the conservation activities.
The attack occurred in front of the Mysuru MP, MLAs of Virajpet and Madikeri and Zilla Panchayat president of Kodagu. The incident was recorded on video by the district authorities. The then Kodagu SP, Vartika Katiar, threatened to include the names of top Kodagu BJP leaders in the rowdy list for the attack on the IFS officer.
Bowing to pressure from BJP legislators from Kodagu who are hand-in-glove with the timber lobby, both Yediyurappa and Bommai governments have rejected the Kasturirangan report.
Chief minister Bommai was quoted as saying that over 1,500 villages will be impacted in Karnataka if the report is implemented.
With the report facing resistance from the political class, the Modi government has tasked a committee headed by former Director-General of Forests Sanjay Kumar to study the controversies surrounding the proposal to protect the Western Ghats, and submit a fresh report.

Former Principal Chief Conservator of Forests, Karnataka, B.K. Singh, has been quoted as saying that the Western Ghats have already been plundered for development and infrastructure projects. "This in turn has impacted human lives. We need to place an embargo on further destruction and degradation of these forests. If the state doesn't accept the Kasturirangan report, it will only keep open the floodgates of destruction. This decision is not in the overall interest of the people."