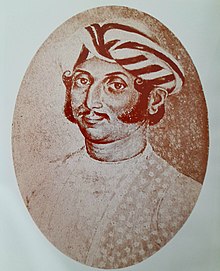 By P.T. Bopanna
Will it be correct to state that the Lingayat Rajas who ruled Kodagu (Coorg) from 1600 AD to 1834 have Kodava blood flowing in their veins?
I had posted an item on Facebook on the Kodavas (Coorgs) of Kodagu district in Karnataka, and their connection to Hinduism.
Commenting on the post, my former journalist colleague Gautham Machaiah, stated: "We have for long spoken about the persecution of Kodavas by Tipu Sultan, though historians say some of it is hugely exaggerated. However, many present day Kodavas are unaware of the torture the community faced under the Lingayat Kings. 'Chikkaveerarajendra' by Masti Venkatesh Iyengar which documents what the Kodavas went through, is a must read for all."
I wish to point out to Machaiah that there was so much inter-marriage between Kodavas and the Lingayat royal family, that the Rajas had Kodava blood running through their veins!
I wish to reproduce an excerpt from the book 'Kodagina Ithihas' by D.N. Krishnaiah, which is considered as one of the most authentic works on the history of Kodagu.
The excerpt reads: "Queen Devaki, wife of Lingaraja was from the Paḷanganḍa okka in Kānthūr. Once, Lingaraja met Bonda Mukkatira Iypanna and was highly impressed by him. So he made him a Lingayat with the name Chennabasappa, and gave him his eldest daughter Muddammaji (by Devaki) in marriage (1816). When Muddammaji died within two years of her marriage, Queen Devaki and Lingaraja gave their younger daughter Devammaji in marriage to Chennabasappa."
There were several such instances of the Lingayat royal family members marrying Kodavas.
Kongettira Rani Kaverammaji, a Kodava hailing from Chettalli, was married to Chikka Veerarajendra (in picture), who accompanied him to Varanasi, after the Raja was exiled from Coorg by the British in 1834.  
Another interesting fact is that most of the Diwans (ministers) of the Kodagu Rajas were Kodavas. In fact, Kodavas were the power behind the throne.