In a major victory for the social media, one of the sustained campaigns on Facebook has led to the rebuilding of the Hunsur-Gonikoppal Road.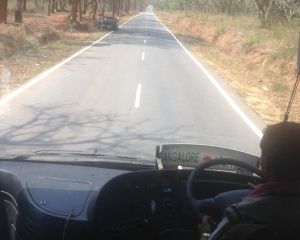 The 45-km road bordering Mysore and Kodagu districts was in a pathetic state for decades due to neglect. Dotted with craters, several stretches of the highway had become hazardous for motorists.  
 Through Kodagu's first news portal www.coorgtourisminfo.com, promoted by journalist P.T. Bopanna, an online campaign to improve the road condition was started by registering a petition in May, 2012, with Petition India, on online portal, where members of the public could register their online support.
 The petition was addressed to the then Speaker of the Karnataka Legislative Assembly, K.G. Bopaiah, who represented the Virajpet Assembly constituency in Kodagu.
 Though Bopaiah assured in the media that the work on the road will be taken up, the assurance failed to materialize. With no relief in sight, journalist Bopanna started the 'Repair Hunsur-Gonikoppal Road' campaign page on Facebook.
 With the campaign getting a positive response on Facebook, senior IAS officer, P. Manivannan, who was then the chief project officer at Karnataka State Highways Improvement Project, took notice of the issue. 
 Manivannan convinced Dr H.C. Mahadevappa, the PWD minister, on the urgent need for starting the work. Though work on the road was taken up, work came to a standstill on account of the non-release of payment to the contractors.In November, 2012, journalist Bopanna met Governor Hans Raj Bhardwaj and submitted a memorandum urging for resuming the work.
 Responding to a memorandum, the Governor directed the state government to take up the repair of the road.  In a letter to the Principal Secretary to the Public Works Department, the Governor's Secretary stated:  "I am directed to forward herewith the representation dated November 13, 2012, of Sri P.T. Bopanna, Bangalore, for taking the work early. Report on action taken on this matter may kindly be intimated to this Secretariat."
 The Governor's direction had the desired result and the work commenced. However, the work had to be deferred due to the monsoon. Subsequently, work could not be taken up due to non-availability of construction material.
 Finally work on two stretches of the road was completed late last year. The repair of the Panchvalli-Anechoukur was completed recently.
 The 'Repair Hunsur-Gonikoppal Road' Page received 1,335 'likes' on Facebook.
 On the future of the Facebook Page, Bopanna said: "Though the purpose of the Page has been achieved, the Facebook Page will continue its campaign against poor road conditions in Kodagu and other road-centric issues."