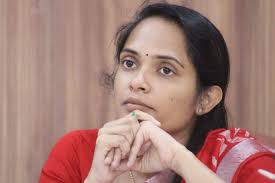 By P.T. Bopanna
Kodagu DC Annies Joy (in picture) should look into reports of irregularities in the sale of Jamma lands in Kodagu (Coorg) district in Karnataka.
According to reports, revenue officials (tashildars and assistant commissioners) were exercising 'arbitrary' powers to effect the sale of Jamma lands.
Though there was no provision for the sale of Jamma lands, unique to Kodagu, a controversial amendment was introduced when the present Virajpet MLA K.G. Bopaiah was the Speaker to gain political mileage.
This reporter is signatory to a petition before the Karnataka high court seeking the quashing of the Karnataka Land Revenue (Third) Amendment Act. Since the matter is still pending before the court, there is need for exercising caution in effecting arbitrary powers in the sale of Jamma lands.
When the amendment was passed, this reporter had brought it to the notice of the then Governor Hans Raj Bharadhwaj, the malafide intention behind the legislation. The Governor did not sign the Bill. Instead, the Governor referred the Bill to the Centre. Subsequently, there was much lobbying to get the Presidential assent.
Through these columns, I have brought it to the notice of the present DC how paddy fields were being converted into housing layouts at Mallambatti on Virajpet-Madikeri highway and at Hathur on Virajpet-Gonikoppal road. But no action seem to have been taken.
A previous Kodagu DC had indulged in corrupt land deals and the high court had sought action against him.
This reporter is of the view there is need for a comprehensive amendment to bring clarity on Jamma lands and proper documentation of rights to enable cultivators to avail bank loans. However, free sale of Jamma lands will be a death blow to the indigenous people and their culture which revolves around their ainmanes (ancestral homes) located on jamma lands.
There is need for transparency in the transactions involving jamma lands and the DC should take the people into confidence. This is the only way to prevent an 'Assam-like' situation developing in Kodagu.