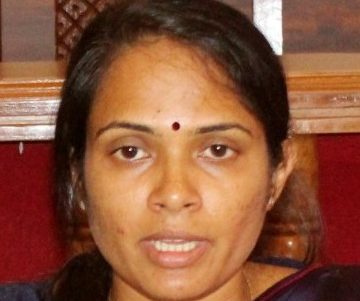 By P.T. Bopanna
Kodagu deputy commissioner Annies Joy (in picture) who served the district in one of the critical moments is taking a leave of absence to join her husband who has been recently posted as first secretary in the Indian Embassy at Washington.
In a statement, she said: "I have had a successful two-year tenure in Kodagu as Deputy Commissioner. Thank you everyone for the support and warmth provided. The beautiful memories in Kodagu will be cherished forever."
This is the right time to make an assessment of her tenure. She was posted in Kodagu in 2019. She was extensively involved in the preparations to gear up the district for a possible landslide in view of the 2018 devastating landslides that hit Kodagu.
While the preparations were made for landslides in the vulnerable areas of northern Kodagu, the landslides occurred in the southern part of the district at Thora village. Annies led the team in the relief and rescue efforts.
When the Covid-19 pandemic struck Kodagu last year, Annies led from the front in tackling the situation. Her training as a nurse came handy in dealing with the situation and implementing the standard operating procedures. To a large extent, the precautions helped in preventing the spread of the disease. She was also effective in dealing with the 2020 floods that hit Talacauvery.
While her role during the floods and Covid pandemic were commendable, her image took a beating after took up 'developmental works' around the famed tourist spot of Raja Seat.
Though the area around Raja Seat suffered landslides in 2018, Annies unilaterally took up the construction of 'Coorg Village', involving the construction of a shopping complex despite opposition from environmentalists.
Even before the controversy died down, she launched her second 'assault' on Raja Seat by taking up a 'beautification' project involving over Rs 4.5 crore. The fact that excavators were used for construction of pathways, shocked the residents of the town who were already under fear due to the landslides. This earned her the nickname 'Excavator Annies'.
Annies suffered the wrath of the Kodava community after she banned the entry of pilgrims to Talacauvery shrine during the last Theerthodbava. It was being speculated that this was done at the instance of a BJP leader who was trying to score political points.
Congress leader and MLC Veena Achaiah has been quoted as saying that Annies seldom took the people's representatives into confidence.
The charge against Annies was that she went by the advice of a few officials and a BJP leader who is close to chief minister B.S. Yediyurappa.
CONCLUSION: By and large, Annies provided a good administration. She should have been more sensitive on issues involving the environment. Instead of staying aloof, she should engage with citizens and people's representatives and stay away from partisan actions.