By P.T. Bopanna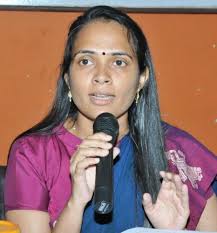 While commending Kodagu deputy commissioner Annies Kanmani Joy (in picture) for rejecting applications for land conversions in the landslide-prone district of Kodagu (Coorg) in Karnataka, it is disheartening to note that she will not act against conversion where permission has already been granted.
It is no secret that one of the previous Kodagu DCs had fraudulently given permission for conversions and had even been pulled up by the courts which wanted disciplinary action initiated against him in a land dispute.
If allowing housing layouts to come up on paddy fields for which permission was taken fraudulently, it amounts to abetting a fraud in the landslide-prone area amid forecast that more landslides are expected this year.
Housing layouts are being formed on paddy fields by the side of the highway at Hathur town and another major project near Malambatti on Virajpet-Madikeri highway. The DC should immediately halt constructions and review the permissions granted to ascertain whether revenue rules were followed in the conversions. She should personally inspect the spots to get first-hand knowledge of the havoc being caused by the land mafia.
By acting against such blatant violations, irrespective of the fact whether permission had been obtained, a message will go down that irregularities will not be condoned.
According to reports, in the last two months, the Kodagu district administration has rejected more than 500 applications seeking conversion of agricultural land for commercial purposes.
The deputy commissioner has been quoted as saying: "In the last two months, I have rejected at least 500 such applications – seeking permission for conversion of land for constructing resorts, schools, homes or other commercial spaces."
She had rejected the applications based on recommendations made by a team of experts which visited Kodagu after the landslides last August. They had stated that the prime cause for the landslides was diversion of green spaces for commercial activities.
The 18-member team, included members from Geological Survey of India, Indian Institute of Science, World Resources Institute, and Save Western Ghats Movement.

Meanwhile, it is learnt that a government constituted committee comprising additional chief secretary (Home), principal secretary (disaster management cell), regional commissioner (Mysuru) and director of Karnataka State Natural Disaster Monitoring Centre is expected to visit Kodagu this week to assess the situation and make further recommendations.