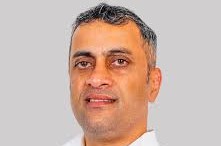 By P.T. Bopanna
During my few hours of stay in Kodagu (Coorg) recently, there was no power supply. I was informed by residents of Gonikoppal town in Kodagu (Coorg) district of Karnataka on the power blackouts they were facing on a daily basis.
I have been in touch with my Facebook friend Rathan Kilar, retired superintending Engineer (Electrical), KPTCL, on how to improve the situation which is partly due to the failure of the previous Kodagu MLAs to address the issue.
I was told by the residents that the Virajpet MLA A.S. Ponnanna (in picture) has appointed a retired power engineer to attend to the problems being faced by them. I feel this is a good move, but it could at best be called a 'band-aid' solution.
The only solution is to improve the power transmission system. Since I understand that Kodagu is attached to the Chamarajanagar circle, we can start with having an exclusive Kodagu circle.
Kodagu is fortunate to have a dynamic MLA in Ponnanna. But the problem is most of his time is wasted on felicitations by various groups. The honeymoon period of 100 days of Siddaramaiah government is over. Ponnanna should spend more time to solve the critical power supply situation.
The Union government's power ministry and the Central Electricity Authority could be of great help in solving the power problem. Since Kodagu MP Pratap Simha is only making guest appearance in Kodagu, there is not much that can be done.
Power expert Rathan Kilar, who studied in Kodagu and has friends in the district, is passionate about reforms in the power sector. He has prepared a status report on how to improve the situation after visiting 6 hoblis in five taluks of Kodagu. He has made the following suggestions. The solutions are given below:
To consider establishing 66KV links from Kushalnagar source to Siddapura on Lynx ACSR to extend circuits to Ponnampet and Virajpet.
And consider establishing 220/66 midway at Geo centre and load centre of Ponnampet & Virajpet taluks extending 220 kv circuit from Kushalanagar 220 Kv Receiving Station.
District is sandwiched by two power rich districts of Kannur of Kerala and Mysore of Karnataka. To consider the option of establishing 220/66 kv in Virajpet midway between Ponnampet and Virajpet 66 kv stations near Hathur- Ammathi road limits by locating 10 acres of land for a radial station by extending 220 kv sc line from Kushalnagar via Guddehosur,Valnur on to load centre. (SH-91 will be reference for BEE LINE)
Nearest 220 Kv Source to VIRAJPET is KUSHALANAGAR 220 KV. It is proposed to extend 220kv One circuit from KANIYAR of ARKALGUD Taluk with source from HASSAN (SHANTHIGRAMA) 400/220KV. Hunsur – 220 is with 2*100 MVA by LILO of both the BASTIPURA- KUSHALNAGAR 220 KV lines was commissioned recently on 19-03-2023 . Strengthening of 46 Kms SC line by DC with higher Ground Clearance in Elephant Corridors as approved in TCCM & learnt that Estimate has been prepared and awaiting sanction. This line passes in Rajiv Gandhi wildlife sanctuary protected Project Tiger area.
Nearest KSEB 220/110 Kv Station to Kerala-Karnataka border is the one feeding power to Iritty 110 Kv station. Iritty-Virajpet is connected by Interstate Highway SH-91 and SH-30 of Kerala connecting MATTANUR International Airport. Protected RF exists in Border on either side of the State Border.
People of Kodagu can take the help of Rathan in preparing a memorandum to be submitted to the Prime Minister's Office on the power problem. People should also approach Pratap Simha on the problem and a memorandum copy can be submitted to him, so that he could follow up.