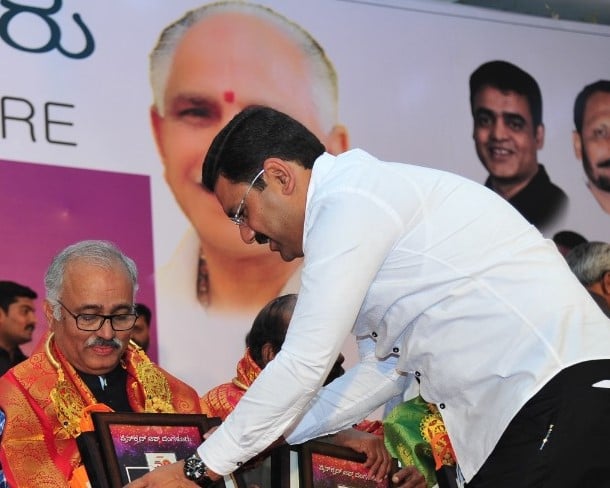 By P.T. Bopanna
Sometime during 2020, I was one among the journalists selected for felicitation by chief minister B.S. Yediyurppa as part of the golden jubilee celebrations of the Press Club of Bangalore.
At a function held at the Bangalore Palace Grounds, while chief minister Yediyurappa stood by on the podium, it was his younger son Vijayendra who garlanded and handed over the mementoes to the awardees, including me (in the picture).
There was no doubt that Vijayendra had been playing an active role in the government. But I was not sure whether there was justification in the claim being made by a section of the BJP legislators that Vijayendra had been functioning like a 'super chief minister'.
The way the allegations were brought about gave the impression that there were forces at work at the highest level to dislodge Yediyurappa from the chief minister's chair.
However, Vijayendra denied the allegations and claimed it was a political conspiracy against him by the Congress party. "Fabricating stories is an old tactic practiced by the Congress party and one such attempt has been made in a statement coming in from Mysuru. I will not yield to such malicious, politically motivated accusations. My morals cannot be lowered by such rumours."
Why blame poor (haha) Congress, when it looked like an 'inside job'? A bunch of BJP leaders had been gunning for the exit of the ageing Yediyurappa, apparently at the behest of the party high command. The BJP leadership eventually succeeded in forcing the exit of the Lingayat strongman who almost single-handedly built the saffron party in Karnataka.
However, it was too early to write the political epitaph of Yediyurappa who has been known to bounce back.
Though prime minister Narendra Modi and home minister Amit Shah succeeded in ousting Yediyurappa, the decimation of the BJP in Karnataka assembly polls early this year has demonstrated that the Lingayat strongman is still a force to reckon in Karnataka politics. Modi's jibe at Gandhi family practicing dynastic politics has boomeranged badly. Now Vijayendra has been appointed president of the Karnataka unit of the BJP.
BJP's dynastic politics is notorious in Kodagu (Coorg) where three controversial brothers have been legislators, including one who is presently a sitting MLC.
Source: Round and About with P T Bopanna, Rolling Stone Publications, 2022. Paperback copies of the book available on Amazon: