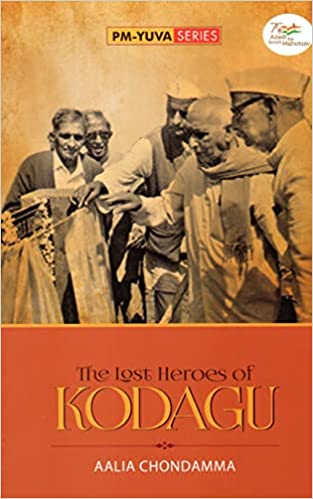 By Shrividya Somanna
Meet Aalia Chondamma Mevada, a 16-year-old bubbly girl with a flair for writing. She waves her pen like a wand to create magic with words. Her recent endeavour being a book called "The Lost Heroes of Kodagu". It was penned under the 'Young, Upcoming and Versatile Authors' (PM-YUVA) mentorship scheme held for writers below the age of 30, commemorating Azadi ka Amrit Mahotsav – 75 years of India's Independence.
Recalling her journey through the scheme, she says, "I entered with a draft about freedom fighter Mallengada Chengappa, and was selected. After an interview explaining what my book was about, I was chosen as a YUVA author – an honour indeed. We had editors and mentors who reviewed our work monthly. We also had sessions with authors and publishers, to understand the process of writing a book inside out. Finally, we were all invited to the New Delhi World Book Fair at Pragati Maidan, where the 75 of us met each other and witnessed our books being launched in the presence of dignitaries such as the Director of the NBT and Nobel Laureate Annie Ernaux besides the French Ambassador.
Aalia recalls: "I was told stories ranging from real life incidents to legends of men and women of yore, and I ended up devouring books at a very young age. That eventually led me letting myself imagine and wonder. That imagination is the root of it all, and I ended up writing bit by bit about my surroundings and what fascinated me most. I used to draw princesses and fairies and mermaids and give them backstories. I used to look at trees and make up stories of entire civilisations inside their trunks. I think stories have been so important to do that, to fuel my imagination and tap at my writing skills."
When asked about her inspiration for writing, she says, "I'd say that my role model and my inspiration has been pretty constant. My grandfather was my ultimate hero, who was the one who told me these stories and carved that door to my imagination. He was a man of morals and learning, and I still derive a lot of inspiration from him. As for authors, I don't have a favourite author per se, but Enid Blyton has been my comfort read. I like books that make me feel – it can be happiness, it can leave me totally broken and unable to function, as long as it makes me feel deeply, it will worm its way into my heart and stay there!"
Aalia wrote as a child and still does. Poems, essays and half completed fantasy tales define her writing journey. Her poems and essays were always posted on to a few WhatsApp groups. She also wrote for her school newsletter as well as a children's newspaper called Robin Age.
This young writer is testimony to persistence and dedication bearing fruit. She comments, "I think it was in 5th or 6th grade that I completed a story; about a school and a kingdom under attack, but it never made it to publishing houses. And so, I just kept writing poetry and articles until I ended up getting selected for the PM-YUVA mentorship scheme."
Enthusiastically reminiscing her journey during the mentorship scheme, she notes, "When the competition was first announced, I wanted to write because the idea of unsung freedom fighters embodies itself in Kodagu. It was my mother who told me about Mallengada Chengappa, and I based my draft all about him with a mention of Pandianda Belliappa as well. After an interview, I received the news that I had been selected, and there began the ambitious task of writing about Kodagu's unsung freedom fighters. It was eye opening, because Kodagu is often portrayed as a British stronghold, but this book deals with exactly that. It challenges the colonial stereotypes and shows the truth about Kodagu while also detailing the customs and the festivals of Kodava culture."
Her advice for young authors being, "Young authors – read. Storybooks, blogs, whatever gets the gears in your mind turning. I'd also recommend looking around you for inspiration. Everything has a story if you are patient enough to think and wonder about it!"
Aalia mentions that she was actually the youngest in all of the 75 authors selected. "It was fun and since my research was mostly primary, my information is largely from the grandchildren or children of the amazing men and women. The biggest problem that I faced was the fact that I was in the 10th grade and my board exams were occurring. However, I had no option to slack off, as we had to submit monthly reports concerning our research and progress as well. Looking back though, it definitely taught me so much – about handling deadlines, about keeping calm and managing my stress. It is a journey and opportunity I'm beyond grateful for, honestly. And it's an opportunity I recommend everyone to chase – to write and liberate."
The writing journey has only begun for this young girl from Kodagu. Her mother, Meenakshi is a librarian at KALS School, Kaikeri, in Kodagu, where Aalia also studied. "I spent my kindergarten days in Sapling, then studied in KALS till 10th standard. I am currently pursuing my 12th in Bethany Junior College, Bengaluru, in the humanities stream. Since I adore literature, I chose elective English as my optional subject, and I firmly believe it will aid my journey not just as an author but as a person as well. I have myriad interests, but I want to serve the country either in the field of defence or in the civil services."