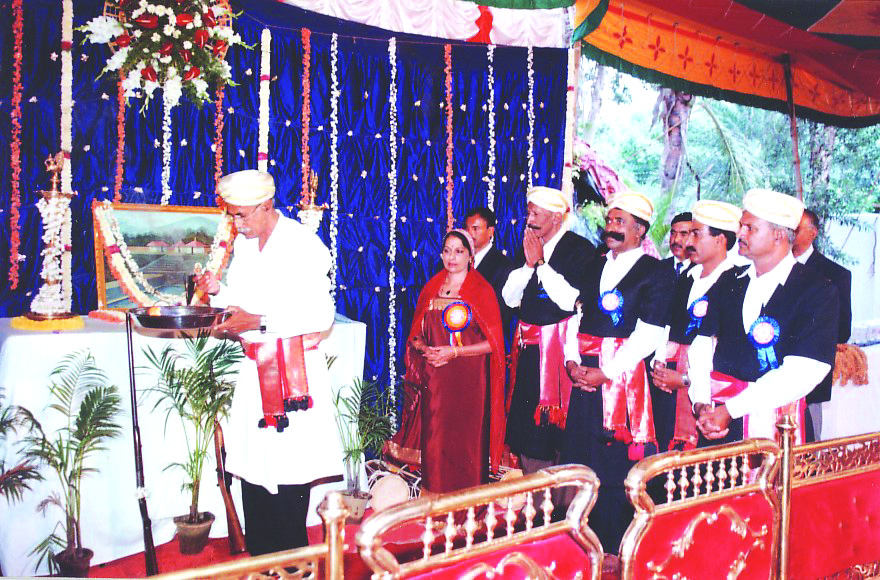 By P.T. Bopanna
This year's Kailpod, the festival of arms, being celebrated by the Kodavas (Coorgs) in Karnataka on September 3 is special because for the first time the Union government has recognised the centrality of the festival while extending the exemption for the community from getting gun licence.
The Kodavas are the only community in India who are exempted from obtaining licence for owning firearms.
After vested interests questioned in court the privilege being given to the Kodavas, the Union government last year extended the exemption for 10 more years till October, 2029.
Responding to a public interest litigation filed before the Karnataka High Court, the Union government noted that the Kodavas worship weapons during Kailpod festival.
The decision to extend the exemption was taken considering the cultural and religious sensitivities of the community. "Those who have been given the exemption are every person of Coorg by race and every jamma land tenure holder in Coorg," according to a Union home ministry notification.
Though the privilege has been enjoyed by the Coorgs for more than 150 years since the times of the British, what prompted the Modi government to continue the privilege was the fact that guns were seldom misused by the community in crimes or anti-national activities.
With arms being so much part of the life of a Kodava, it was but natural to celebrate a festival dedicated to the arms.
Basically, the Kodavas belong to an agrarian society and August is an arduous period when the folks are busy planting paddy. At least, that was the practice before the paddy fields were turned into coffee estates after the coffee boom. It is again another matter that the coffee boom has been followed by a bust due to the crash in the price of coffee in the international market.
On the morning of Kailpod, the armoury of the house, consisting of guns and swords, are cleaned and kept in the central hall. Then sandalwood paste is smeared on the weapons. A flower called Toku Poo is used to decorate the arms. The worship of the weapons is followed by a grand lunch.
The main dish is pork curry with rice dumplings. While the men consume hard liquor, women partake of wine during the feast.
The grand lunch is followed by the traditional Kodava folk dance. Later, both the men and women proceed to the village green in the afternoon where several competitions are held. The most popular sport is shooting of coconuts. Coconuts are hung from tree tops and the competitors shoot at them from a marked distance. The shooting is followed by Tenge pore, a sport where a group of youths scramble for the possession of a coconut.
A few decades ago, a collective hunt for game was organised in the forest. This is no more in vogue following the implementation of strict game laws banning hunting.