There seems to be a clear divide in the family of Dy SP Madapanda K. Ganapathi who committed suicide on Thursday in Madikeri following alleged harassment by minister K.J. George and two police officials.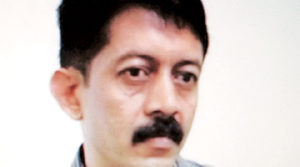 While Ganapathi's widow, Paavana has fully backed her husband's version on the circumstances leading to the alleged suicide, Ganapathi's brother, who is also a DY SP, and their father have claimed that the late police officer was suffering from severe depression.
"My husband has not taken this step because of depression," Paavana said, adding that there was no family dispute between her and Ganapathi.
Ganapathi's younger brother M K Thammaiah, also a DSP in Karnataka police, claimed that his brother was undergoing treatment for "severe depression" for more than a year, and was prone to delusionary thinking.
Thammaiah said: "He was being treated at M S Ramaiah Hospital in Bengaluru. After transfer to Mangaluru, he was treated by a friend who is a doctor. His allegations are imaginary. I am not trying to defend anyone."
But stating that "no one from the department" had harassed his brother, Thammaiah said, "Not even one promotion or increment was delayed. All our batch-mates knew Ganapathi was depressed."
Their father Kushalappa too maintained Ganapathi had been "undergoing treatment in Bengaluru".
IGP (Western Range) B K Singh said no suicide note has been found and two rounds were fired from Ganapathi's service gun prior to his death. Two empty cartridges were found. Based on Kushalappa's complaint, a case of unnatural death under Section 174 of CrPC has been registered, he added.
Madikeri MLA Appachu Ranjan charged that Ganapathi's brother seems to have come under pressure to hush up the case.
Chief minister Siddaramaiah has announced a CID probe into the death of the police officer.
Source:
http://indianexpress.com/article/india/india-news-india/karnataka-deputy-sp-suicide-was-depressed-no-one-was-hounding-him-says-brother-2902384/