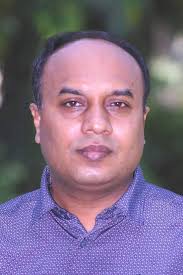 By P.T. Bopanna
Is the decision of the Congress leader Brijesh Kalappa (in picture) to resign from the party an opportunistic move?
Having followed his career path, I would say the move is nothing but jockeying for power, having recently failed to get nomination either for Rajya Sabha or Karnataka Legislative Council.
Being a journalist hailing from Kodagu (Coorg), I have followed the career of Brijesh, who also hails from Kodagu, in the last three decades.
He started as a journalist, but switched over to legal practice and was a junior in the law office of Congress leader Kapil Sibal, who could be considered his political godfather.
Having served effectively as a spokesperson for the Congress, secularism is in the DNA of Brijesh, and hence he is unlikely to join the BJP.
With the emergence of A.S. Ponnanna, son of the late firebrand politician A.K. Subbaiah, as the face of the Congress in Kodagu, Brijesh did not see much future in the politics of Kodagu.
His only chance was a nomination to either Legislative Council or Rajya Sabha. Maybe Brijesh should have waited for a few more years to get his turn for nomination in the Congress.
With his political godfather Sibal set to become a Rajya Sabha member with the support of Samajawadi Party, Brijesh sees a role for himself in the national politics in the secular camp.
While Brijesh is a knowledgeable person and an effective spokesperson, he lacks political instincts and organisational skills. Moreover, unlike A.S. Ponnanna, Brijesh does not have deep pockets to fund political campaigns.
There is nothing wrong in Brijesh jockeying for power. As the American statesman Dr Henry Kissinger remarked "power is the ultimate aphrodisiac."