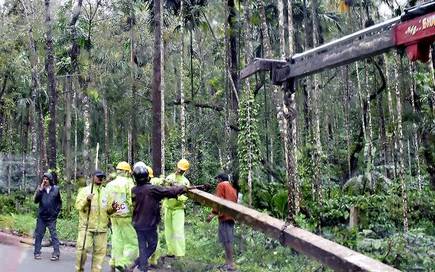 By P.T. Bopanna
Most parts of Kodagu (Coorg) district in Karnataka are under a power blackout mainly because the district administration was not geared to face the challenge posed by the monsoon fury, despite two years of back-to-back floods in August.
In a Facebook post, cartoonist Roy Ponnanna said: "My Mother called me last night saying that it's been almost 11 days since there is no electricity in Ballamavatti village. They charge their phone in car as the power backup (UPS) is drained. It rained heavily 11 days back and because of which entire Kodagu flooded and electricity supply is cut off."
The heavy rain that lashed Kodagu in the first week of August has taken a heavy toll on the power supply infrastructure damaging 2,677 electric poles.
According to Chamundeshwari Electricity Supply Company (CESC) officials, besides the poles, 25,650 metres of power lines and 75 transformers in the district were damaged, involving an estimated loss of Rs 3.05 crore.
The CESC has deputed 75 of its personnel drawn from Hassan, Mandya and Mysuru to restore power supply.
Considering the damage, the available manpower is not sufficient to restore power supply in the near future.
The Karnataka government should request the Army, especially the MEG, which has requisite manpower to tackle the situation.
Knowing the monsoon fury in the last two years, the district administration and the CESC should have stocked the material and additional manpower to restore power supply.
The power and BSNL infrastructure in Kodagu is in a mess. So much so, that power supply is disconnected by the CESC during rains as a "preventive" measure.
The elected representatives have failed in their duties to take up modernisation of the network.
It is a tragedy that high-power cables were drawn across Kodagu by cutting over 50,000 trees to supply power to Kerala.
The authorities and the district minister should immediately expedite work on restoring the power supply to mitigate the sufferings of the flood-affected people in Kodagu.