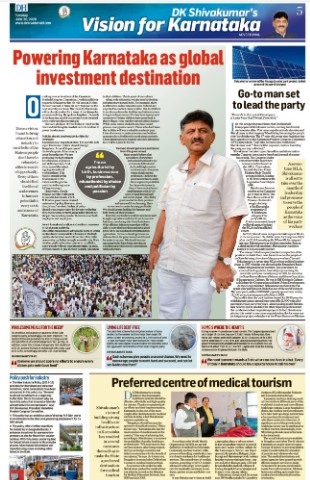 By P.T. Bopanna*
I subscribe to only one newspaper. That is Deccan Herald. Being an independent journalist, I want to read a paper which is independent. At least, almost independent.
However, I was taken by surprise today. An entire news page (in picture) was devoted to Karnataka unit Congress President D.K. Shivakumar. The page did not look like an advertisement because the layout gave the impression that it was a news page.
On closer examination of the page, I came across the word 'ADVERTORIAL' buried on top of the page. For the uninitiated, it is a sort of paid news. Advertorial means, a newspaper advertisement giving information about a product in the style of an editorial or objective journalistic article.
As far as I can remember, the concept of advertorial was started by Times of India to generate advertisement revenue. This is an unethical practice because the reader is misled into believing that it is a news item when in reality, the whole thing is a public relations exercise to boost revenue for the paper.
I remember when H.D. Deve Gowda became the prime minister, Times of India brought out a special supplement, containing advertorial material. I was working for the Times at that time. I was asked to contribute an article. In the article, I referred to certain negative things about Gowda. The negative references were not deleted by the Times!
Unlike its peers, Deccan Herald had maintained its editorial independence at the expense of losing revenue. The Modi-Shah duo has ensured that advertisements are released to only those papers which tow their line.
After the pandemic, advertisement revenue has dried up for all media houses as the country's economy is in doldrums. Many publications have closed down because they cannot withstand the losses.
Though the Deccan Herald, founded in 1948 by K.N. Guruswamy, and now being run by the Nettakallappa family, has deep pockets, there is a limit they could go to put up with the losses. They are forced to resort to unconventional ways to generate revenue to keep the paper afloat. Only politicians like DKS have the resources to splurge.
It is a sad story that a paper whose founding editor was the legendary Pothan Joseph has been rendered weak by circumstances. It is time the management devises ways to make the paper subscription-driven, rather than depend on advertisements.
In the past, my articles have been featured in Deccan Herald. I should admit they used to pay decent amount to the contributors of articles, unlike many other publications.
*P.T. Bopanna is a Bengaluru-based author and journalist.