By P.T. Bopanna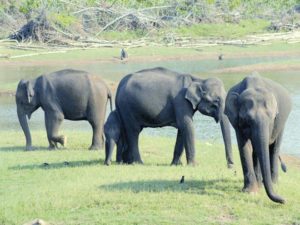 It will not be an exaggeration to say that elephants do not live anymore in the forests of Kodagu, but they are found only in the coffee estates.
Hence, ideally any census of elephants should have started off in the coffee plantations, instead of the exercise being confined to the forests.
Karnataka started a major exercise of counting elephants on Wednesday, involving more than 550 volunteers and 98 resource persons. The exercise will go on till May 20.
Since the census was confined to the forests in Kodagu, they could spot only 50 elephants on day one. About 100 volunteers, 250 forest staff and students of the forestry college at Ponnampet, began the census exercise, covering 16 forest ranges in the district.
Kodagu has huge swathes of forests, covering Nagarahole, Brahamagiri and Pushpagiri ranges.
On account of consecutive droughts, denudation of forests due to the laying of power line to Kerala through Kodagu, lack of fodder in forests, the elephants have been migrating to the neighbouring plantations, leading to serious man-animal conflict.
In the last two years, 21 persons were killed due to elephant attack in Kodagu, the highest casualty in the state, compared to other districts.
Unless the elephants are re-located from coffee estates to the forests, any census will be misleading and will remain an exercise in futility. In the last census conducted five years ago, there were just 150 elephants in Kodagu.