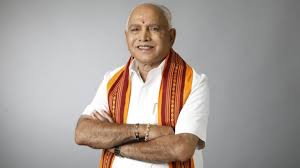 By P.T. Bopanna
Bowing to pressure from the Kerala timber lobby, the BJP government in Karnataka headed by B.S. Yediyurappa has rejected the Kasturirangan report to conserve the Western Ghats.
This is a tragic development for Kodagu (Coorg) district, located in the core area of the Western Ghats, which has witnessed landslides consecutively for three years.
Defending the Cabinet decision, revenue minister R. Ashok said: "The report is unscientific and there are plenty of ambiguities which make it difficult to implement."
The matter is coming up before the National Green Tribunal (NGT) on December 31. The Centre will have to file an affidavit. "While the state government isn't a party to this, we had to inform the Centre what our stand is," Ashoka added.

The Kasturirangan report has identified over 1,500 villages in Karnataka as ecologically sensitive areas (ESA).
It is no secret that legislators from the Malnad districts, especially Kodagu, who are under the influence of the timber mafia, have been lobbying for rejecting the report because it would hamper the free run of the timber merchants who have been plundering the Western Ghats, triggering landslides in the recent years.
Last year, chief minister Yediyurappa had written to Union Forest and Environment minister Prakash Javadekar, in which the former pointed out: "The recommendation of an ESA of 20,688 sq km in Karnataka is not feasible. As it is, 16,632 sqkm are under some form of protection either as protected areas, notified forests or ESZ. Therefore, imposing more restrictions on these areas would negate the objectives of conservation as this could be counter-productive."
The National Green Tribunal has taken exception to the Union government's delay in finalising the notification. So far the Centre has issued several draft notifications which have lapsed for want of consensus on the extent of area to be declared as ESA.
It is said Karnataka has been the sole state which has been a stumbling block by refusing to accept the concept of ESA, whereas the other five states coming under the Western Ghats area have agreed in principle the concept of ESA.
In the wake of unprecedented floods in Kodagu district in the last two years, environmentalists believe any move to reduce the ESA could be suicidal. It may be noted that the National Green Tribunal has barred any reduction in the area coming under the ESA after the Kerala floods two years ago.
Former Principal Chief Conservator of Forests, Karnataka, B.K. Singh, has been quoted as saying that the Western Ghats have already been plundered for development and infrastructure projects. "This in turn has impacted human lives. We need to place an embargo on further destruction and degradation of these forests. If the state doesn't accept the Kasturirangan report, it will only keep open the floodgates of destruction. This decision is not in the overall interest of the people."