By P.T. Bopanna
The Kodagu (Coorg) district administration headed by deputy commissioner Annies Joy (in picture) has launched the 'second assault' on Raja Seat, the famous tourist spot at Madikeri, by deploying excavators.
Annies, who came under fire for her infamous 'Coorg Village' project in the same area last year, which involved the construction of a shopping complex, has now taken up another construction project in the area which had witnessed landslides in 2018.
MLC Veena Achaiah, who visited the area a few days ago, was shocked to see excavators being used for digging. Following her protest, the excavators have been moved out of the area.
Talking to this reporter, Veena said the DC does not consult the elected representatives while implementing major projects.
The Raja Seat 'beautification' project involves construction of pathways, watch towers and decorative arches.
Veena pointed out there was no need for using excavators for making pathways, when the same could be done manually.
Moreover, she felt the use of excavators was dangerous because the area was prone to landslides. And there were residential houses below the area whose safety could be compromised.
According to reports, approval has been obtained for Rs 4.55 crore, out of which Rs 3.69 crore had been released for the project.  
The district administration has got its priorities wrong because the same amount could be deployed for repair of roads in the town which are in a bad shape. The toy train at Raja Seat has not been functioning for the last three years for want of repairs.
It may be recalled that the DC had gone ahead with the construction of the 'Coorg Village' project, involving the putting up of a shopping complex in a hush-hush manner.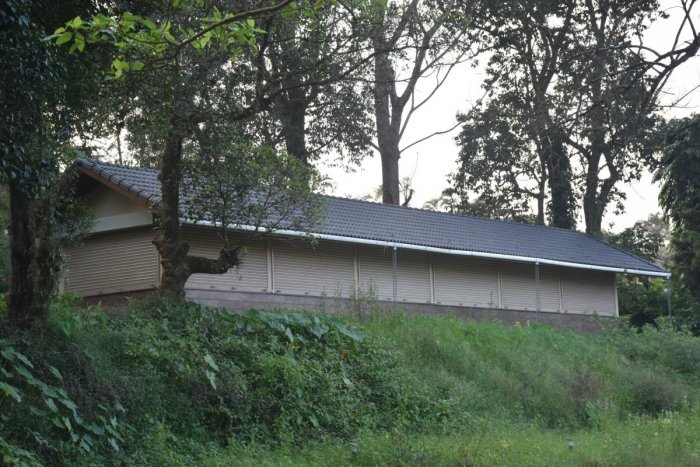 Though the Coorg Village project work (in picture) is completed, the shops are yet to be allotted.

The Raja Seat offers a breathtaking view of towering hills, green valleys, studded with paddy fields. It is fascinating to watch the road to Mangaluru like a curved ribbon lying in the valley. 
The district administration should immediately stop all works around Raja Seat. There is no need for any beautification involving the use of concrete. The priority should be to restore greenery in an area where landslides have already occurred.