By P.T. Bopanna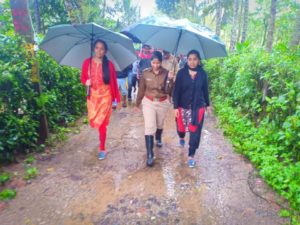 With river Cauvery flowing above the danger level across Kodagu (Coorg) in Karnataka, three top women officials have been visiting the affected areas to review the safety measures and monitor relief operations.
Kodagu DC Annies Joy (in picture left), SP Dr Suman Pennekar and ZP CEO K. Lakshmi Priya have been visiting worst-affected areas following heavy downpour in the last couple of days due to incessant rains across the district.
The presence of the women officials have calmed down the nerves of the residents as last year's landslides are fresh in the memory of people and there is apprehension of more landslides this year too.
Except for a major landlside on Virajpet-Makkutta Road which has disrupted traffic between Virajpet and Kerala, there have been minor landslides across the district.
As more rain is forecast, educational institutions have been closed in the district till August 9 as a precautionary measure.
With non-stop rains in the last few days, the Bethri bridge between Virajpet and Madikeri has been submerged and vehicular traffic disrupted.
Flood waters have entered Gonikoppal town affecting the flow of traffic towards Ponnampet and Polibetta. Floods have been reported in and around Virajpet town.
Top district officials visited Ikola, Nellihudikeri and Karadigodu villages and reviewed safety measures.
At Bhagamandala,  Triveni Sangam is overflowing. The Bhagamandala-Madikeri Road and Bhagamandala-Ayyengeri Road have been closed to traffic. 
With more rains forecast, residents of Kodagu have to be careful as the flood situation could worsen with the possibility of landslides.