In a record of sorts, the first batch of the 'Discover Coorg Video DVDs', the first full-fledged DVD on Coorg, has been sold out within two months of its launch.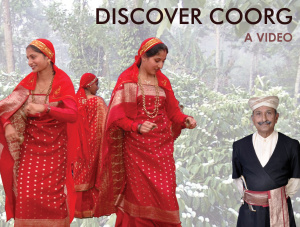 The DVD produced by journalist P.T. Bopanna features tourist spots, homestays, Coorg jewellery, Kodava family hockey festival, facilities for golf in Coorg, and the unique culture of Coorg, including traditional Kodava folk dances and Kodava wedding.
 "Encouraged by the response, I have brought out another batch of the DVDs and distributed the same to the shops where it was made available earlier," said Bopanna
 Pattamada Sundar Muthanna, a noted writer, has written the script for the video. The voice-over has been done by Mohan Ram. The duration of the DVD, priced Rs 100 each is 34.47 minutes.
 Krupakar-Senani, wildlife photographers, provided the footage from their painstakingly shot video of Nagarahole/Rajiv Gandhi National Park.
 Besides the 'Discover Coorg Video', Bopanna, author of five books, and promoter of five Coorg-centric websites, has also produced a video on 'how to wear a Coorg sari', directed by fashion guru Prasad Bidapa.