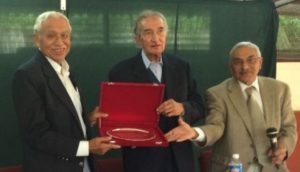 Instead of routinely doling out scholarship to Kodava students, the Coorg Education Fund (CEF) should concentrate on "identifying bright sparks and fast-forwarding their career to enable them to break the ceiling", said retired IAS officer from Chennai, P.M. Belliappa.
Replying to the felicitations offered to him recently by the CEF at Madikeri, Belliappa (in the middle of the picture) offered to donate Rs 50 lakhs to CEF for promoting the cause of igniting young Kodava minds.
Belliappa noted that his father Pemanda Monappa, who headed the police forces of three states, was also a beneficiary of the CEF scholarship.
The IAS officer noted that there was need for introspection on how the fund should be utilized in the wake of the CEF completing over 150 years. He added the CEF could continue with the scholarship criteria being followed now, but should ensure that a portion of the scholarship should go to exceptionally talented Kodavas.
The CEF should tie up with the schools and identify talent capable of achieving high leadership levels and qualify for all-India services. "In the past, those getting CEF scholarships reached top spots in their professions at the national level, whereas, nowadays we hardly come across Kodavas "breaking the ceiling" after availing CEF financial assistance." He gave the example of his father and also the late C.G. Somaiah, who retired as Union home secretary, who were beneficiaries of the scholarship.  
The president of the CEF, K.P. Uthappa, and Madikeri Kodava Samaja president K.S. Devaiah, spoke on the occasion.