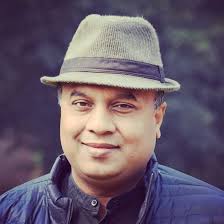 By P.T. Bopanna
Has Brijesh Kalappa (in picture), former Congress spokesperson, committed political harakiri by resigning from the Congress?
The recent surprise resignation of Brijesh who has considerable following in the social media, took everyone by surprise.
Though Brijesh was an effective spokesperson, he was never a pragmatic politician.
On the eve of last Lok Sabha election, this writer had written an article suggesting that Brijesh was an ideal candidate if merit was the criteria to represent the cultural capital of Mysuru and the highly literate people of Kodagu. In the same article, the writer had also stated that Brijesh was unlikely to be given the ticket because his numerically small Kodava community did not matter in politics.
Brijesh should have known the reality and desisted from submitting his resignation letter after he was recently denied nomination to the Rajya Sabha and the Karnataka Legislative Council.
Having worked as a junior in Congress leader Kapil Sibal's law office, he should not have followed his leader who exited from the Congress to contest Rajya Sabha seat as an independent with the support of the Samajawadi Party.
Kapil can take such risks because considering his age, he has only around five years of active politics left in him, whereas, Brijesh has another 25 years of active politics before him.
In politics, one has to be pragmatic as in the case of the late Anant Kumar, who was once in the inner circles of BJP stalwart L.K. Advani. But Anant Kumar smoothly walked over to the Modi camp and continued as Union minister.
Having been an advocate in the Supreme Court, he should not have openly associated himself with groups demanding tribal status for Kodavas. It may be a genuine demand, but law or political equations are not in favour of the community.
Though Kodavas are a tribe, they do not qualify for the Scheduled Tribe (ST) status as stipulated in the law, considering the fact that Kodavas are one of the most highly educated communities in the country and economically well off compared to the Yaravas and Kurubas, who live in primitive conditions and presently enjoy the ST status. Moreover, the Yaravas and Kurubas form the core constituency of the Congress.
Ideally, Brijesh should go back to the Congress, the only secular party with an all-India presence, instead of clinging on to the apron-strings of Kapil Sibal, his political godfather.