By P.T. Bopanna*
The new digital media rules framed by the Modi government have come in handy for vested interests to prevent me from sharing news from my portal on Facebook.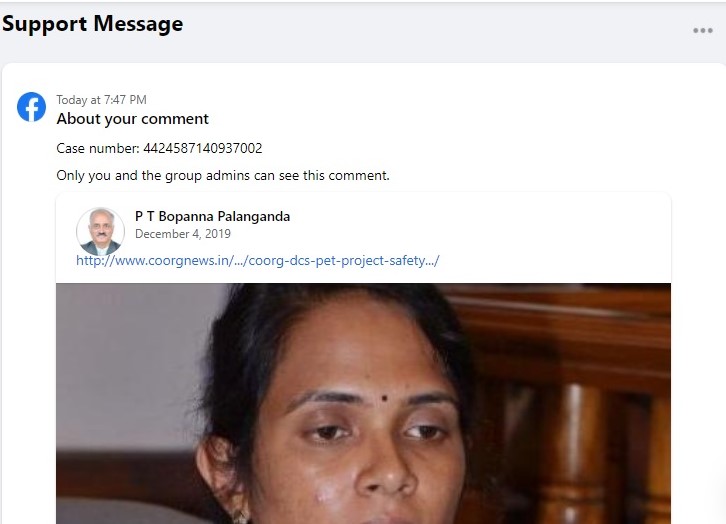 It is more than a week since Facebook blocked my news portal www.coorgnews.in. Whenever I try to share a news link from my portal on Facebook, a pop-up comes up saying that my website goes "against the Community Standards on spam."
This is nothing but an assault on independent media to block news which may not be to the liking of politicians and officials.
Though I have been sharing news from coorgnews.in site on Facebook for over six years, Facebook started red flagging some of my news items in the past few weeks, in the wake of the latest digital rules.
The latest news item to be red flagged a couple of days ago, pertains to a news item I had posted two years ago, on how the then Kodagu DC Annies Joy had gone ahead with the construction of 'Coorg Village', a shopping complex project at Raja Seat.
In my news report, I had faulted the DC for keeping the project under wraps till the building foundation was built. I felt building a shopping complex in the Raja Seat area was not sound from an environmental angle because the area had suffered damages during the 2018 landslides.
Apparently persons close to the DC must have sought the removal of my post from Facebook. Consequently, it was red flagged (I have posted the screen shot image of the Facebook action).
Another report which was red flagged by Facebook involved my report on land-grab by the Virajpet MLA.
Being a journalist, it my duty to expose officials and politician involved in unlawful acts, or actions of a DC who fails to visualise the gravity of her actions on the Raja Seat by building a shopping complex.
I have been a journalist for more than four decades and worked for major Indian newspapers and also an international news agency (Associated Press).
Besides, I have authored eight books and run half a dozen websites. In the circumstances, blocking my website by Facebook is not in the interest of freedom of the press.
While I have been performing my duties in a professional manner, politicians have stooped to low levels to attack me. In a Facebook Live programme, Kodagu-Mysuru Lok Sabha member Pratap Simha made abusive reference to me. He mentioned me by name and said: "P.T. Bopanna is always vomiting poison against me."
Simha has been upset because I have been opposing his pet project of Mysuru-Kushalanagar railway line which I feel is not suitable from an environmental angle. Besides surveys show the project is not financially viable. I have maintained that Simha has been championing the project to woo the vote banks in the Hunsur area.
I have been critical of Simha, who had indulged in disorderly behaviour, though he is a lawmaker elected to the Indian parliament from my home district.
Reacting to an incident which occurred four years ago, this is what the then chief minister Siddaramaiah had to say: "Pratap Simha drove his car and slammed it into the police barricade. If an elected representative takes law into his own hands and his followers imitate the same, what will happen to law and order?"
I take this opportunity to appeal to Facebook to remove the restrictions placed on my news portal in the interest of freedom of the press.
*P.T. Bopanna (in picture) is a Bengaluru-based journalist and author.