By P.T. Bopanna
 My report in my Facebook page Coorg-Kodagu News titled "A Coorg Family's Priceless BMW Bike: A Daughter's Tribute To Her Father" has been read by over 10,000 people.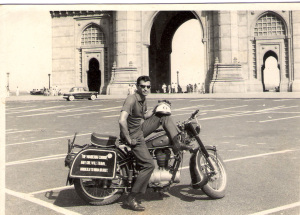 On an average, most of the reports featured in my FB news page clock around 500 visitors. The unusual numbers of visitors to the page shows the interest the people of Kodagu have in adventure, especially involving motorcycles.
 The adventure-loving people of Kodagu have apparently admired Codanda Nanjappa Jairam's (in picture) trip all the way from Germany to his village at Boikeri near Madikeri on the iconic BMW R25/3 in the 1960s, especially in an era when borders were bleak and roads non-existent.  
 What was poignant was the fact that Jairam's daughter Sangeetha, also a biker of repute, commemorated the 60th birthday of the bike by giving it a complete restoration.
 Sangeetha restored the bike with original BMW parts. What caught the imagination of the people was the fact that the bike still retains the original Coorg registration of MYZ 984.
 While mentioning adventure involving bikes, the name that comes to mind is the journeys made by Maneyapanda Satish Ganapathy across continents on his Jawa motorcycle.
 In his college days, Satish used to regularly ride his bicycle from Mysore to his native town of Ponnampet.
 When I as in school at Gonikoppal, there was this chap Cheppudira Thammi, affectionately known as 'Chooda Thammi', who used to cover the Gonikoppal-Virajpet stretch in around 10 minutes or so.
Then I had heard about one Codanda guy from Mysore who was such an expert that one of his bike manoeuvres came to be known as 'Sardar Cut'.
 But the ones who brought laurels to Kodagu in rallying were Jagat Nanjappa and his navigator Anita  who emerged champions in motorcycle rallies across India.