By P.T. Bopanna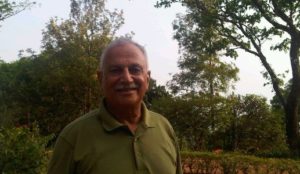 In protecting the interests of Kodagu (Coorg), air marshal K.C. Nanda Cariappa (Retd), is a worthy successor to his illustrious father field marshal K.M. Cariappa.
Cariappa Ajja, as the field marshal was affectionately known among the local people of Kodagu, had opposed the plans of the Karnataka government during 1972-73 to build the Kambadakada irrigation project which would have submerged a large part of Kodagu.
The government buckled under pressure after the field marshal took up the issue with the policy-makers and explained to them the environmental dangers. 
Following in the footsteps of his father, air marshal Cariappa (in picture) too has taken keen interest in preserving the environment and ecology of Kodagu.
In keeping with his love for protecting the interest of Kodagu, the air marshal  recently wrote an emotional letter to prime minister Narendra Modi to prevent the 'desertification' of Kodagu.
The air marshal wrote: "Mr. Prime Minister, you are the last bastion of hope for the people of Karnataka and Tamil Nadu to ensure that the specter of desertification does not become a reality. Please intervene and put an end to the proposal to construct a railway line, and to the unnecessary widening of our arterial highways. All these will have a devastating effect on the food, water and economic security of this region in South India. These ills can be thwarted by declaring the entire district as an 'eco-sensitive zone' as defined by the Environment Protection Act."
In the past too, the air marshal has championed the interests of Kodagu. In 2009, he approached the Supreme Court of India to restrain the timber mafia, backed by the Kodagu district administration and sundry politicians from forming a road across the Pushpagiri Wildlife Sanctuary in Kodagu in the ecologically sensitive Western Ghats.  
In a blatant violation of the law, the Kodagu district administration, backed by Kodagu MLAs K.G. Bopaiah and Appachu Ranjan, and supported by local villagers attempted to lay a road through the Pushpagiri reserve forest in the Western Ghats, amid opposition from Karnataka forest officials.
The air marshal's wife Meena Cariappa, has been actively involved in the education of physically and mentally challenged children in Kodagu.