Environmentalists have sought the implementation of the recommendations of the Kasturirangan report on conservation of the Western Ghats to preserve the greenery of Kodagu.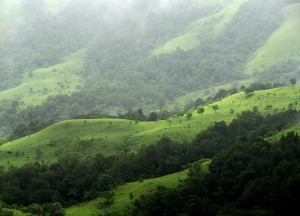 Addressing a news conference at Madikeri on Thursday, K .M. Chinnappa, A. Thammu Poovaiah, T. M. Somaiah, P. M. Muthanna and M. K. Appacchu said that the report will not harm environment and its dwellers. They claimed that a few vested interests, politicians and officials were engaged in creating rumours against the report.
"Those who have opposed the report have not read the report. It is better if people read the report on their own. If we initiate a discussion, then we are projected as pseudo environmentalists and anti-development," they contended.   
According to them, as per the recommendations, only 37 per cent of the Western Ghats have been identified as ecologically sensitive areas (ESA). There is no problem in taking up development work in the remaining 63 per cent of the area. "ESAs are those areas considered sensitive, less populated, national park, reserve forest, project tiger and elephant corridor areas. Only 55 villages in the district have been identified as ESA and not the entire district," they said.

Further, they maintained: "There is no proposal to acquire agricultural and coffee estates. There is no restriction on the felling of trees on private land. The land owners can seek permission and fell trees in Kodagu as per the Karnataka Forests Act 1963 and Karnataka Preservation of Trees Act 1976. There is no proposal to check felling of silver, acacia trees grown by the land owners. The recommendations have not laid down any restrictions on the cultivation of coffee, black pepper, paddy and oranges in Kodagu. It has not laid down restrictions on the construction of houses as well. Commercial activities like coffee, tea processing units, home stays, commercial complex, cement unit, furniture units and tiles manufacturing units are listed in green zones and no restrictions have been laid down on it."
They added the recommendations have banned quarrying, sand mining, setting up of thermal power projects and construction of more than 20000 square metre building in the identified areas.
Via
http://www.deccanherald.com/content/448459/greens-kodagu-bat-kasturirangan-report.html