By P.T. Bopanna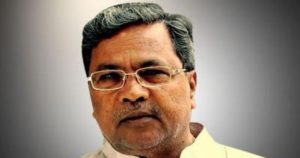 Will the Dy SP M.K. Ganapathy case come to haunt chief minister Siddaramaiah in the run-up to the Karnataka Assembly elections due in May?
Initially, the Supreme Court had given time till December, 2017, to submit the report in the case. However, the CBI team has sought additional three months time to submit the report in the wake of new evidence emerging in the case.
The body of Dy SP Ganapathy was found hanging in a lodge at Madikeri in Kodagu (Coorg) district in July, 2016, under mysterious circumstances.
In an interview given to the media hours before his body was found, Ganapathy had told in a television interview that if any harm comes to him, minister K.J. George and two other senior IPS officers should be held responsible.
 The Karnataka CID police which investigated the case, had given a clean chit to George in the case, amid rumours that the police had tampered with evidence to shield the culprits. Significantly, the CID had filed a 'B' report without waiting for the forensic report.
It is learnt that the forensic report had hinted at deletion of contacts, emails and messages from the phone of the late police officer.
 Acting on a petition by Ganapathy's father M. K. Kushalappa, a Supreme Court bench of Justices Adarsh Kumar Goel and U U Lalit, had said that in the interest of justice, the matter should be investigated by the CBI.
"There are certain startling facts in the case. Whether it is murder or suicide, it is required to be investigated in a fair manner. We are not determining the nature of the offence or who is guilty. But public confidence and societal requirement demand that the guilty persons must be reached," the bench said.
In the FIR filed by the CBI, minister K.J. George had been made the first accused in the case on the charge of abetment to the suicide of DY SP  Ganapathy.  
With extension of time for submitting the report, the CID could come out with damning evidence around the time of the Assembly polls, which could be damaging for the ruling Congress in Karnataka.
It is said that minister George is close to Congress's first family and one of the main fund mobiliser for the party in Karnataka.