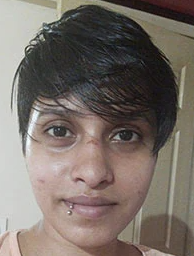 By P.T. Bopanna
This reporter who used to cover the crime beat for The Times of India in the 1980s, recalls how a Bengaluru court created judicial history in India by accepting DNA fingerprinting as evidence to convict the killers of a 22-year-old pregnant woman hailing from Kodagu (Coorg) in Karnataka.
Similar to Aftab Amin Poonawala, who chopped into pieces his live-in partner Shraddha Walkar (in picture) at their South Delhi flat, this psychopath professor M. Vishakantaiah, an associate professor of entomology at the University of Agriculture Sciences (UAS), Bengaluru, cut his daughter-in-law, Beena's body into pieces and scattered the pieces in the GKVK campus of the university.
Vishakantaiah was not happy his son M.V. Mahesh had fallen in love and married Beena, who was not from a well-to-do family.
The professor instigated his son Mahesh who fed cyanide to Beena after they went out for dinner.
By using DNA evidence, the prosecution was able to convince the court that a few bones found in a eucalyptus grove belonged to Beena, who went missing without a trace in 1988.
The servant of the professor, Subba, who led the police to Been's remains, later turned hostile in court.
DNA test established that the bones found in the grove belonged to Beena, after comparing them with blood samples drawn from Beena's mother, sister and brother.
This was the first time the results of this technique had been accepted as valid proof of crime in an Indian court.
V S Kashyap, deputy director of the Central Forensic Science Laboratory in Kolkata, compared the marrow from the bones with blood samples from Beena's parents.
The then sub-inspector Nagaraj, who investigated the case, was quoted as saying: "A neighbour's statement and eyewitness accounts told me that the pregnant woman was last seen with her husband. Closer questioning helped us crack the case."
Nagaraj and his team combed the area and recovered seven bone pieces, including skull, jaw and spine pieces.
Nagaraj stated: "At that time, an international seminar on DNA was going on at Chennai. We contacted a professor who guided us on how we should proceed, and collect DNA samples from the recovered bones. The samples were sent to the Central Forensic Science Laboratory (CFSL) in Hyderabad in 1991.
Prof Vishakantaiah died in prison after he was convicted, but the son was later acquitted by the Supreme Court, it is learnt.