By P.T. Bopanna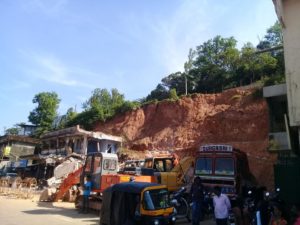 It is a matter of concern to note that the Madikeri City Municipal Council (CMC) is planning to put up buildings at the old private bus-stand which was destroyed in the August landslides that ravaged parts of Kodagu (Coorg). The area (in picture) should be maintained as a 'green space' in memory of the victims of the landslide.
Though the CMC authorities will be tempted to go in for construction of shopping complex to rake in revenue, this should not be allowed at any cost.
In the first place, the area is not safe anymore. For that matter, Madikeri town is not a safe place anymore because of haphazard development. The town has become vulnerable and the chances of more landslides in the coming monsoons cannot be ruled out.
In the circumstances, the priority of the CMC is to build a retaining wall around the old private bus-stand to prevent further landslips.
Thankfully a new private bus-stand has come up at Madikeri after the project was delayed due to politics.
The old timers of Kodagu will miss the old iconic bus-stand built in 1928. The government should ensure that no new structure comes up in the area and the place is maintained as a green space with ornamental trees and gardens.
Photo by: Arun Artist