By P.T. Bopanna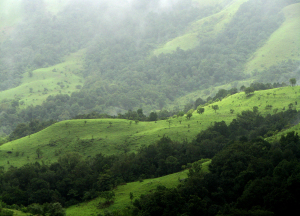 The Congress-led Siddaramaiah government in Karnataka which had rejected the Kasturirangan report apparently to mobilise funds from the timber lobby for Assembly polls, has been cornered by the Modi government at the Centre.
The Karnataka Cabinet on April 19 had rejected the Kasturirangan report which sought the declaration of 20,666 sq km in Karnataka as ecological sensitive area (ESA) in the Western Ghats.
Suspecting the intentions of the Congress government, the Union government on May 26 wrote a letter to the Karnataka government seeking clarification on the decision to reject the Kasturirangan report.
In a written reply to Ivan D'Souza (Congress) at the Karnataka Legislative Council on Wednesday, the forest and environment minister B. Ramanath Rai, admitted that the Union ministry of environment and forests, had sought certain clarifications in relation to Karnataka's decision to reject the report.
Rai added: "The letter and the clarifications sought by the Union government were under the state government's consideration and we are yet to respond."
It is no secret the Kerala timber mafia had lobbied through the politicians in the Western Ghats area, including the BJP leaders in Kodagu, to prevent any debate on the report. Through a sustained disinformation campaign the politicians spread panic among the villagers on the dangers if the report was implemented. It is no secret that once the report is implemented, the activities of the timber lobby will be clipped. 
The Modi government should also seek explanation from the BJP MLAs in Kodagu – K.G. Bopaiah (Virajpet constituency) and Appachu Ranjan (Madikeri constituency) as to why they colluded with the Congress government in rejecting the Kasturirangan report.
Meanwhile, it is learnt that the Union government has notified both Talacauvery wildlife sanctuary and Brahmagiri wildlife sanctuary in Kodagu as eco-sensitive areas.