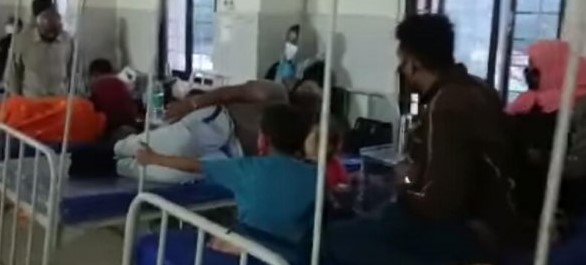 By P.T. Bopanna
Is the Karnataka government to be blamed for the massive increase in the deaths of Covid patients in Kodagu (Coorg) district?
The hill district of Kodagu, South India's popular tourist destination, has been hit hard by the pandemic, with the death toll nearing the 300-mark.
With over 70 per cent posts remaining vacant in the health sector, Kodagu is unable to grapple with the unprecedented surge in Covid cases.
The designated Covid hospital in Madikeri, the district headquarters, has been paralysed by the staff crunch with reports of delay in admitting patients. A video doing the rounds showed two or three people sitting on each bed.
It is not just the district hospital, but there is shortage of specialist doctors, nurses, helpers in taluk hospitals and community health centres.

In the district hospital, there is an urgent need for pulmonologists, general physicians ,cardiologists, nursing staff, pharmacists and laboratory technicians. The district administration has not been successful in filling up the vacancies.
In the circumstances, the government should immediately depute emergency hospital staff from the neighbouring districts to stabilise the situation which is going beyond control.
Congress MLC Veena Achaiah has been vocal in highlighting the lapses in the Covid hospital. She has said there is panic among the patients. The MLC has sought the appointment of staff to give counselling to the patients who are living in fear.
Meanwhile, the Deputy Commissioner Charulata Somal has formed a Covid-19 task force committee led by the assistant commissioner towards improving facilities at the Designated Covid-19 Hospital in the district.
Though the situation in Kodagu is bleak, there is cause for hope. A 30-bed Dedicated Covid Healthcare Centre (DCHC) unit has been started at Lopamudra Hospital at Gonikoppal to provide treatment to COVID patients free of cost by Karuna Trust.
As government agencies have failed in providing critical medical care to the Covid patients, there is need for involving private agencies and NGOs in augmenting the efforts.
The government should consider involving the services of Dr Kavery Nambisan, a veteran in rural health care in Kodagu, to deal with the unprecedented situation.