By P.T. Bopanna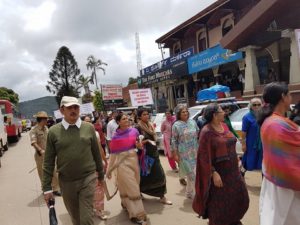 Probably for the first time, gentlemen planters and their lovely ladies, participated in a protest march in Kodagu (Coorg). Normally, the hurly-burly of protest politics is not their cup of tea, rather coffee, in the coffee bowl of India.
Kodavathi women in their traditional saris marched alongside their men in the hill town of Madikeri, the district headquarters of the picturesque Kodagu district.
Famously known as the 'Scotland of India', Kodagu has emerged as the foremost tourist destination in south India. The home-stay concept where tourists stay with the host families has taken deep roots in the hill district.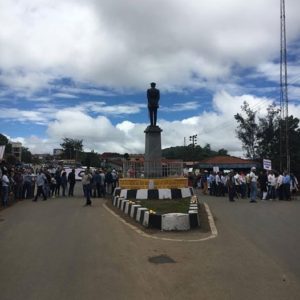 What is less known is the fact that some of these homestays run by unscrupulous elements from outside the district, operate prostitution racket, sullying the image of the district, which has one of the highest literacy rates in India. The local district administration has failed to check the menace. According to estimates, only around 500 homestays have government registration and the majority of nearly 3,000 homestays operate illegally.
While earlier Kodagu was known as the 'Land of the Generals' and for its famous hockey players, presently the place is known more for its tourist spots and the home-stays.
The present problems being faced by the local people is more on account of the large number of tourists who throng the hill station.  
Tourism has brought the real estate mafia and other criminal elements who have polluted the pristine hills and Cauvery river which takes its birth in the district. Garbage has replaced greenery as most of the tourists have little civic sense.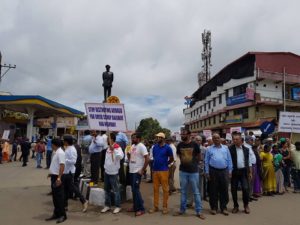 Friday's protest rally was mainly to oppose the proposed highways, new housing layout, resorts, and railway line and also to create awareness among the people against "development of destruction."
Finally, the rich planters have come to realize that there is no future for them, unless they take on the might of the various lobbies, mainly the timber mafia, operating in Kodagu.
The sad part is the elected representatives, most of them from the BJP, are hand-in-glove with the timber lobby who call the shots in Kodagu.
On June 2, the protesters took out a march from the Fort to the Gen. Thimayya statue, and held a meeting at Town Hall, before proceeding to submit a memorandum to the deputy commissioner.
The main force behind the rally was Col. (Retd) C.P. Muthanna, President of the Coorg Wildlife Society.
According to a note, the organisations which have extended their support to the rally, include Cauvery River Swatchata Andolan, Save River Cauvery Forum, Basavanna Devara Bana Trust, FM Carippa and General Thimmaiah Forum, Kodava Makkda Koota, Cauvery Sene,  and Madikeri Kodava Samaja.