By P.T. Bopanna
Dr Shantheyanda Kavina Ganapathy's thesis in the area of neuro-regeneration and Parkinson's disease has been accepted by the Manipal University for award of a Ph.D.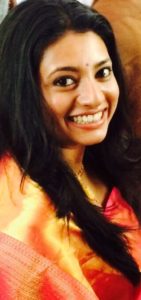 This is a commendable achievement for a girl who had her schooling in Kodagu and secured a doctorate at a comparatively young age of 29 years in the critical area of Parkinson's disease, the second largest neurological disorder occurring in people above the age of 50.
Kavina, daughter of Kongiranda Ganesh and Parvathy, of Balamuri village, did her schooling at St. Joseph's Girl High School, Madikeri, and passed her B.Sc. in biotechnology from St. Aloysius College, Mangaluru, and M.Sc. in regenerative medicine from the School of Regenerative Medicine, Manipal.
In a chat with www.www.coorgnews.in news portal, Kavina said: "I was lucky to have apprenticed under Dr. Indrani Datta, whom I consider as my mentor and Dr.Ramesh Bhonde, a veteran in regenerative medicine. My professional stint at Nimhans in Bengaluru, helped me in understanding the Parkinson's phenomenon."
The topic of Kavina's thesis was 'Role of Endogenous And Adult  Stem Cells Derived Supportive Cells On The Survival Of Dopaminergic Neurons'.
 The research results have been published in various international journals. Her work has also been presented as a poster in the conference held by "Movement Disorder Society of India" bagging the 'Best Poster Award 2017'.
 Married to Shantheyanda Bipin Bopaiah, Kavina has also been an athlete during her Under Grad days. Her interests include acrylic painting, reading, cooking, gardening, and music.